We recently returned from our first family vacation to Europe, but before we left you better believe I asked my mama friends for all the tips on flying with an infant. Flying in general can be quite an uncomfortable experience, so I anticipated it would challenging to fly with a baby.
To my surprise, it was a lot easier than I expected to fly with our 9 month old. Perhaps it had to do with his age, temperament, the tips we followed or just pure luck. We flew on four flights totalling 18 hours worth of airplane travel. Here was the breakdown:
a) Toronto to Copenhagen, 7 hours, overnight
b) Copenhagen to Brussels, 1.5 hours flight, morning
c) Brussels to Porto, 1.5 hours, mid day
d) Porto to Toronto, day time, 8 hours
We got a general feel for what it's like to fly at different times of day for different durations. With the help of some useful tips, I hope to ease any worries you may have about flying with a baby.
Here are 8 things I learned from flying 18 hours with an infant:
---
1) Book an overnight flight
Your baby is more likely to sleep during an overnight flight than a day time flight. In our case, baby slept from the minute we took off (at 8pm) until about an hour before landing. The only thing you have to figure out is how to eat, go to the bathroom, and select your movie while baby is peacefully sleeping in your arms (it's possible, albeit with two caregivers on the same flight).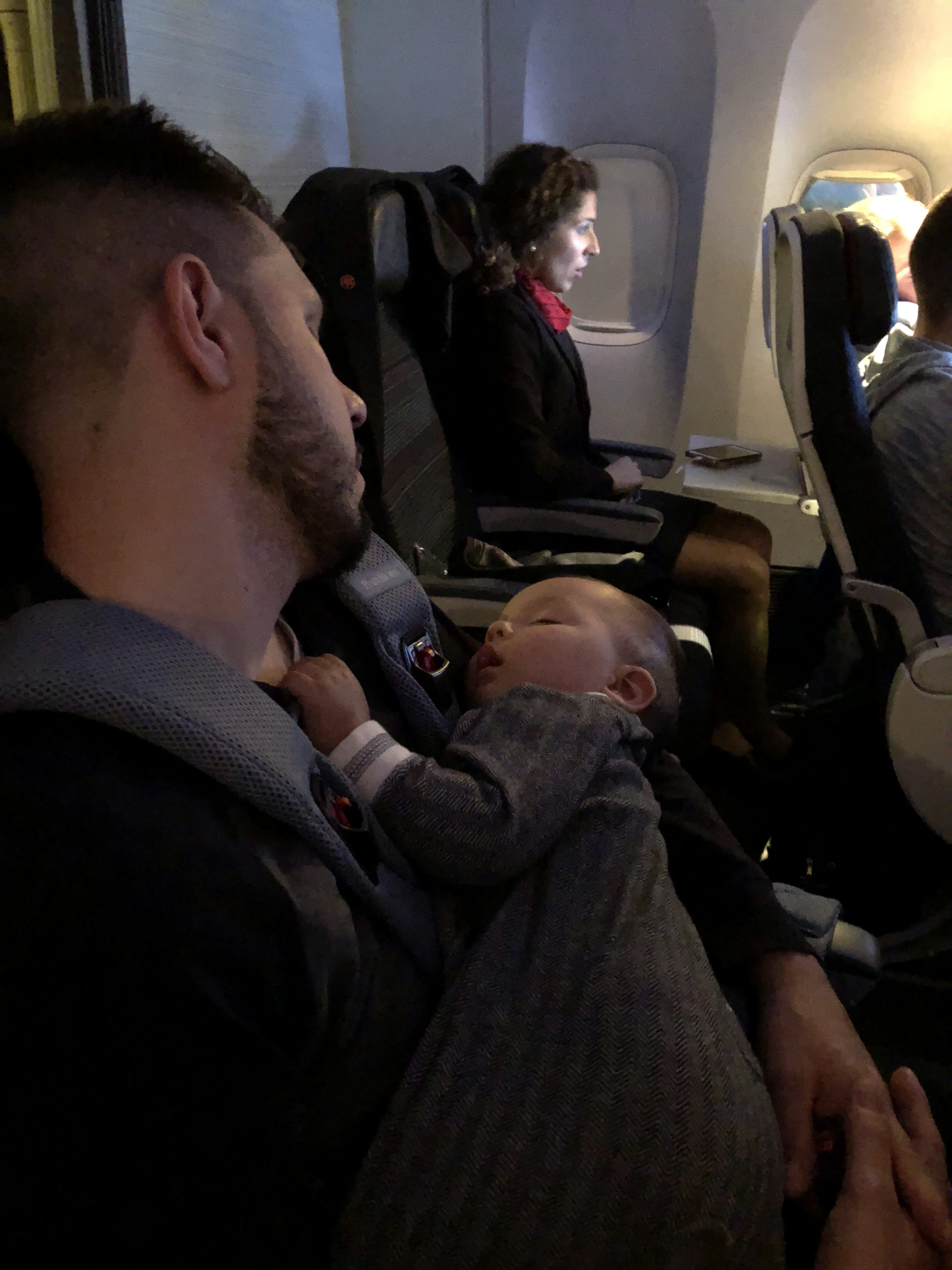 2) Request seats with more leg room
Some airlines have seating areas specifically for people travelling with infants, but you need to call and request. It is the area of the plane where there is no seats in front, just a wall. This comes in handy if you want your infant to sleep in a bassinet (which may be provided by the airline if you request it). If your baby is older like ours, it's also useful if you want them to play on the ground. Just put a blanket down.
3) Bring a well-stocked carry on with you
I swear by my Lily Jade diaper bag organizer. It has sectioned pockets for you to place all the things you may need for your journey. Try to pack as light as possible. Some essentials include: diapers, wipes, a couple toys, some snacks, anti-bacterial spray/wipes, swaddler/blanket and a change of clothes.
4) Utilize the things around you as entertainment (including people)
While it's wise to bring a couple of new toys with you on the flight, there is actually so much around you on the plane that can act as 'toys'. Plastic cups, the folding tray that holds your meals, TV screens, seat buckles, window coverings, laminated emergency exit manuals, even the people sitting around you are entertaining for your little one.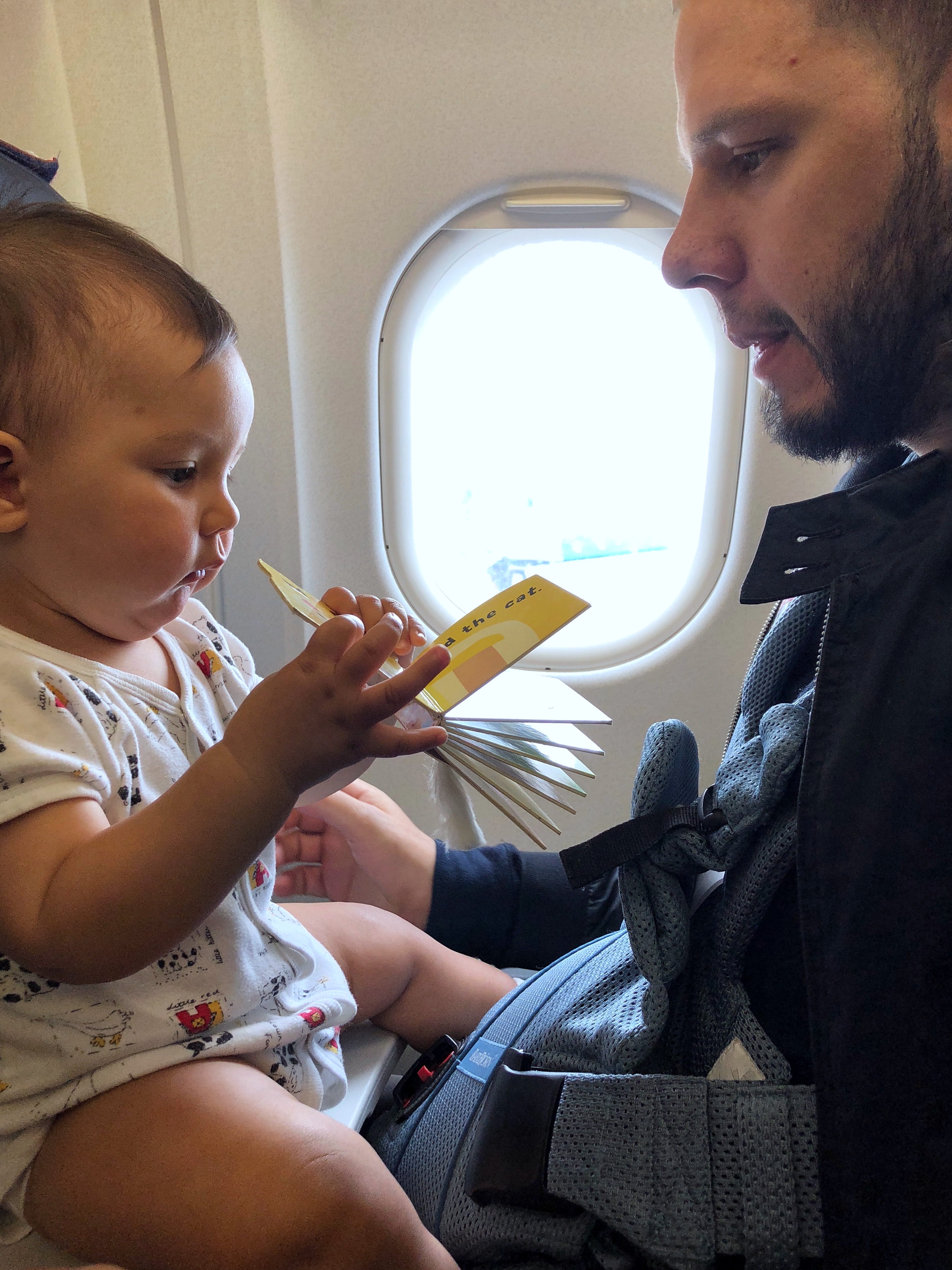 5) Feed during take off and landing
This was one of the most common piece of advice other moms gave. The idea is that the sucking will help baby's ears when the pressure is changing. I tried to do this, but my son wasn't interested. His ears didn't seem to bother him, but every baby is different.
6) Bring anti-bacterial wipes
This one is more for your own peace of mind.Thankfully – I am not a germaphobe. Your baby is going to be touching EVERYTHING (and putting things in their mouth!) so it would be a good idea to *attempt* to disinfect as much as you can.
7 ) Use a water bottle for beverages
A great piece of advice from another mama friend. All new parents know we don't get to drink hot beverages any more. Especially not hot beverages on a tight-spaced and potentially shaky plane with a baby on your lap. Bring a reusable water bottle or thermos for the flight attendants to fill, so you can seal that up and enjoy it later (hot).
8) Divide the flight into shifts
If you happen to be travelling with your partner or another helping hand (and I highly suggest you do!), it's a good idea to divide a long flight into shifts. I found that 30 min shifts worked for us. Our flight from Portugal to Toronto was seven hours during the day, and our baby was awake for a lot of it. You can only do so much playing and walking around in a tight space before you go a little crazy. But getting those interval breaks definitely helped us pass the time and stay sane!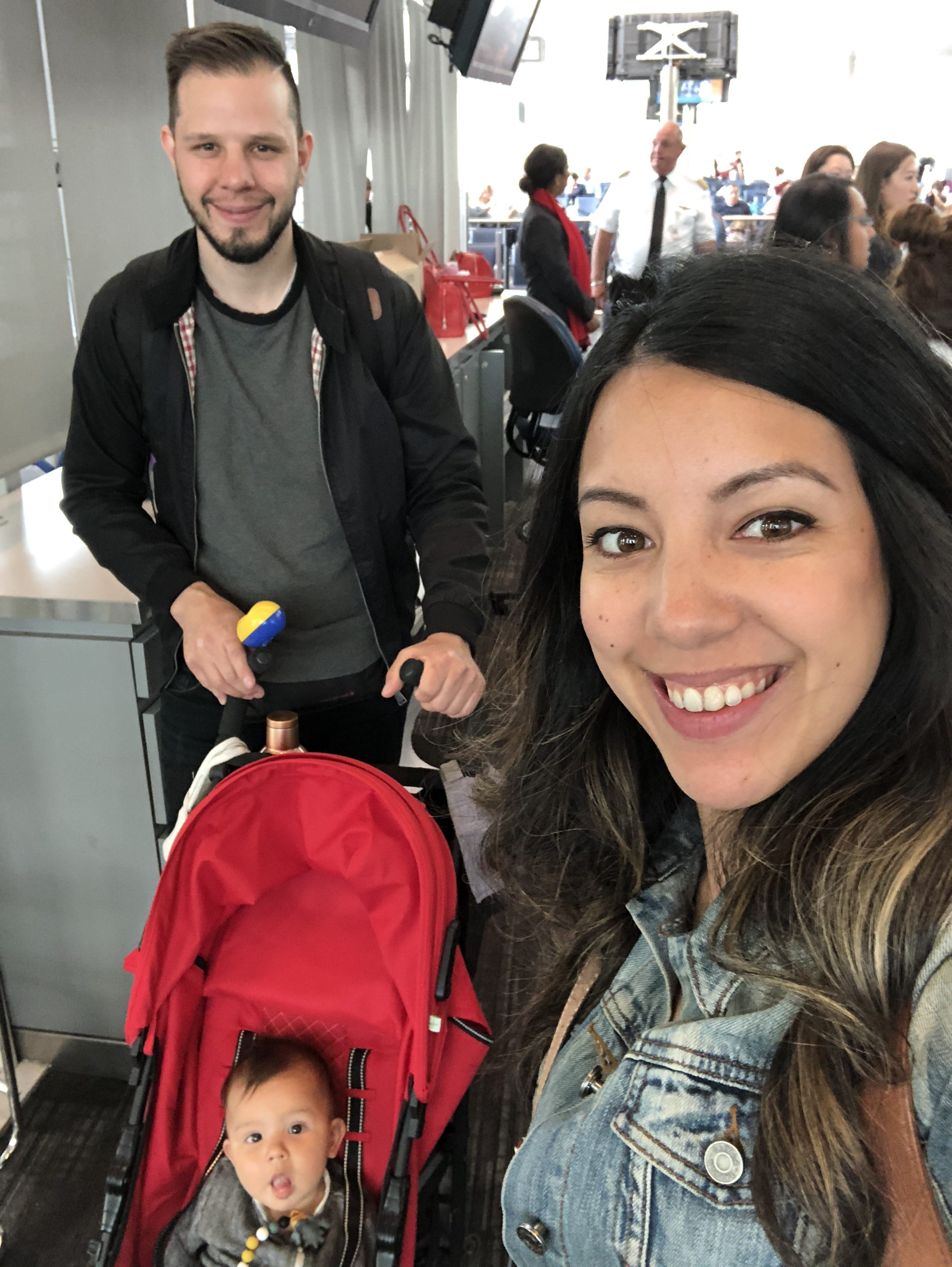 ---
How about you? What are some of your tips for travelling with an infant?