I learned how to make a galette – which I refer to as "pie's edgier sister" – over FaceTime. It was one of those three- lockdowns-later activities that helped keep me sane during the cold days of 2021. To my surprise, I fell in love with this rustic dessert because it almost always comes out beautifully, no matter who makes it, and without much fuss at all. It's essentially a buttery pastry dough that wraps around a sweet fruit or savoury veg filling, baked open-faced on a baking sheet.
What three lockdowns in the dead of winter gets you to do
Throughout 2020 and 2021, we were pushed to think creatively about social connectedness. Technology provided many mediums from which to choose. It was up to us to reimagine what it meant to stay connected. A double date over Face Time. A box of birthday cookies Ubered to your door. A wine and cheese pairing over Zoom. A MasterClass baking lesson. When you're told to stay at home for weeks on end, your willingness to do things you never thought you'd do ramps up.
And for me, that was the willingness to bake.
I used to think I hated baking. It was too precise, too detail oriented, too fussy. But the galette, with its rustic, flaky crust and endless sweet and savoury filling possibilities, made me wonder whether I had misunderstood baking all along.
There is this whole other kind of baking, namely with dough, that is more intuitive than technical. More of an improv dance than a well-rehearsed act. I found I loved the feeling of dough pressed up against the palms of my hands; the mindfulness that kneading requires in order to achieve the perfect bite. I had found my happy place in the baking world.
What can you fill your galette crust with?
There are endless possibilities, both savoury and sweet. You can fill the centre with a single fruit of choice (think, apples, peaches, blueberries) or a combination of some tasty flavours (rhubarb and frangipane, goat cheese and potato, blueberry and pecan, peach and plums).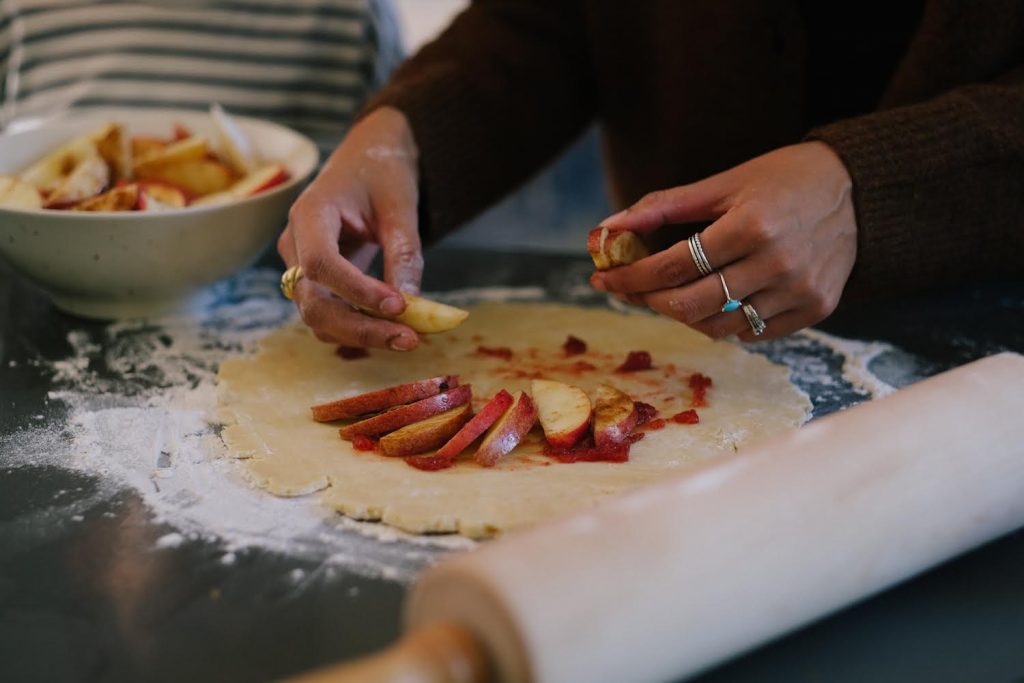 Here are a few tips to help you create a mouthwatering, buttery, flaky crust every time.
Spoon the flour into the measuring cup, then level it off to get a more accurate measurement
Grate cold butter using a box grater, so it evenly distributes throughout the flour. I like to use Natrel butter because of the way it's churned (a tip I learned from those behind Kitten and the Bear)
Once the butter/flour mix feel like sand, press a handful between your fingers. It should hold
Add a half tbsp of apple cider vinegar and ice cold water to the dough
Knead the dough until in comes together. I wish I could tell you a precise number of times to knead it, but all I can really say is you need to mindfully press your palm into the dough a few times until it comes together into a ball.
Form a flat disc with the dough and let rest in the fridge for at least 2 hours before baking
Work fast to roll out your cold dough, so that it remains fairly cool before going into the oven
Once your galette is formed, brush the edges with milk or and egg wash over the edges before baking
Hope you enjoy this versatile and rewarding dessert this Thanksgiving.
Sarah