Whenever there is a holiday approaching, my mind goes straight to food. There's no better time to release your inner chef; to try the recipes you've been pinning all year. People usually forgo their day-to-day diets, fully prepared to indulge in some of life's greatest food pleasures. Cheese is one such pleasure in life.
A few years back I went on a trip to France. The first thing I sought out was their cheese. Specifically – I wanted to try French brie. I still recall that distinct French cheese flavour: Bold, earthy, and creamy in texture.

Sadly, it took a while to find a similar brie in Canada. Then enters: President Spreadable Brie – the number one cheese in France, directly imported from France to Canada. We can have a bite of France at our dinner tables. You can find the brie in the speciality cheese aisle at Metro and Longos.
I created a holiday-inspired appetizer with Président Spreadable Brie. That's right, SPREADABLE brie! It is a brilliant food invention. I love that it has the same taste as good French brie, while being conveniently spreadable (without the rind) and resealable.
The crostini can be made in advance. Roasting the grapes makes them sweeter and bolder in flavour. The roasted grapes should be served warm, so be sure to time it right with your guests' arrival. If you want to assemble the crostini in advance, I suggest putting them under the broiler for a couple minutes when ready to serve.
I hope this inspires you to get cooking and creating in the kitchen!
Sarah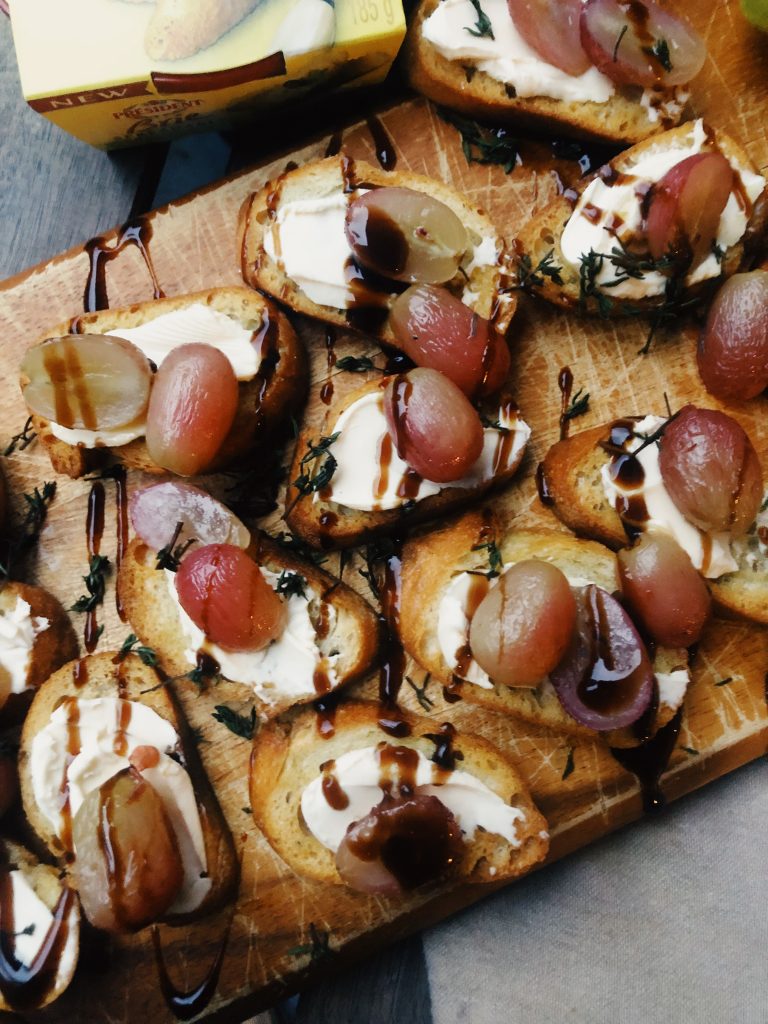 ROASTED GRAPES AND BRIE CROSTINI
For the crostini (as per Martha Stewart)
1 baguette
1/4 cup of olive oil
1 tsp salt
1 container of Président Spreadable Brie

Preheat oven to 350. Slice your baguette into 1/2 inch rounds, and place on a low-rimmed baking sheet. Coat the slices with olive oil and salt using a brush. Bake for 12-17 min, until golden brown, flipping half way through. Let cool completely. These can last for a few days in an air tight container.

For the roasted grapes
1 bunch of red grapes
1-2 tsp of olive oil

Increase oven heat to 400. Remove the stems from the grapes, rinse and dry. Add the grapes to a baking sheet, and drizzle with olive oil until well coated. Roast for 15-20 min. Serve immediately, or reheat under broiler right before serving.
To assemble
Top each crostini with Président Spreadable Brie, then top with a couple roasted grapes. Garnish with fresh thyme and a sprinkle of flaky sea salt if you have some on hand. It also tastes great with a drizzle of good quality balsamic reduction! Enjoy!

Disclosure: This recipe and post is sponsored by Président® Cheese. All products that are sponsored on this blog are products I have tried, cook with, and would recommend/serve to my friends.