I did it! I attended my very first Diner en Blanc event at nearly 38 weeks pregnant (2 weeks from my due date!!) and had a blast. I admit I was a bit apprehensive as I thought through the preparation process, but in the end it wasn't as daunting as I thought, and was so much fun! So what is Diner en Blanc? Let me give you a run down…
Originating in Paris nearly 30 years ago,  Diner en Blanc is an outdoor dining experience that takes place every summer in cities around the world. Thousands of people get dressed entirely in white and set up their dining area at a surprise location with everything they need for an elegant soirée, including folding table and chairs, gourmet picnic food, fine china, silverware, and tablecloth. The location is only revealed a couple hours before the event…
Participating in the Event
The event happens once a year. Getting tickets happens in three stages: Phase one of ticket sales are for members who attended the previous year; Phase two is for new members who are referred by Phase one attendees; and Phase three is for people who signed up on the waiting list. You can join the waitlist by registering online. Membership/tickets costs about $40.
The Rules
To maintain the uniqueness of Dîner en Blanc as well as staying true to tradition, guests are asked to observe certain requirements, including:
Once confirmed, each guest's participation becomes mandatory, regardless of weather conditions. This is a rain or shine event.
Dress code: elegant and white only.
Table setting: all white!
To ensure that the location secret is kept undisclosed until last minute, guests meet at assigned departure location and are escorted by a Dîner en Blanc volunteer
In order to leave the event location as clean as when they arrived, guests are required to leave with all their belongings, leftovers and litter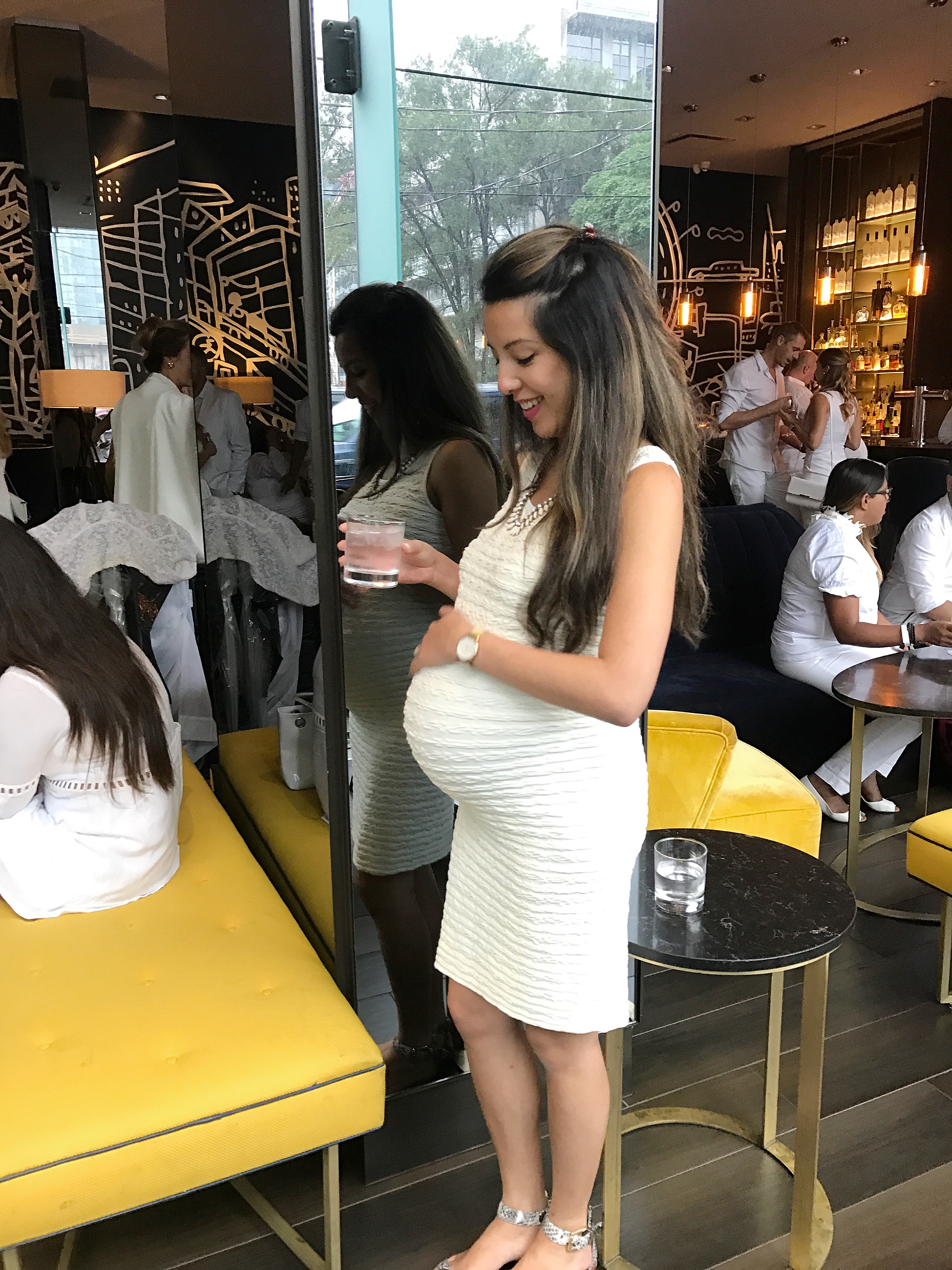 What to Bring
A square table
Two white chairs
White tablecloth
Food (there is a catered option, which is available on site, but guest must order online beforehand)
Cutlery and white dinnerware
A clear or white umbrella in case it rains (in our case, it did rain!)
A trolly and basket to carry your items
Your friends!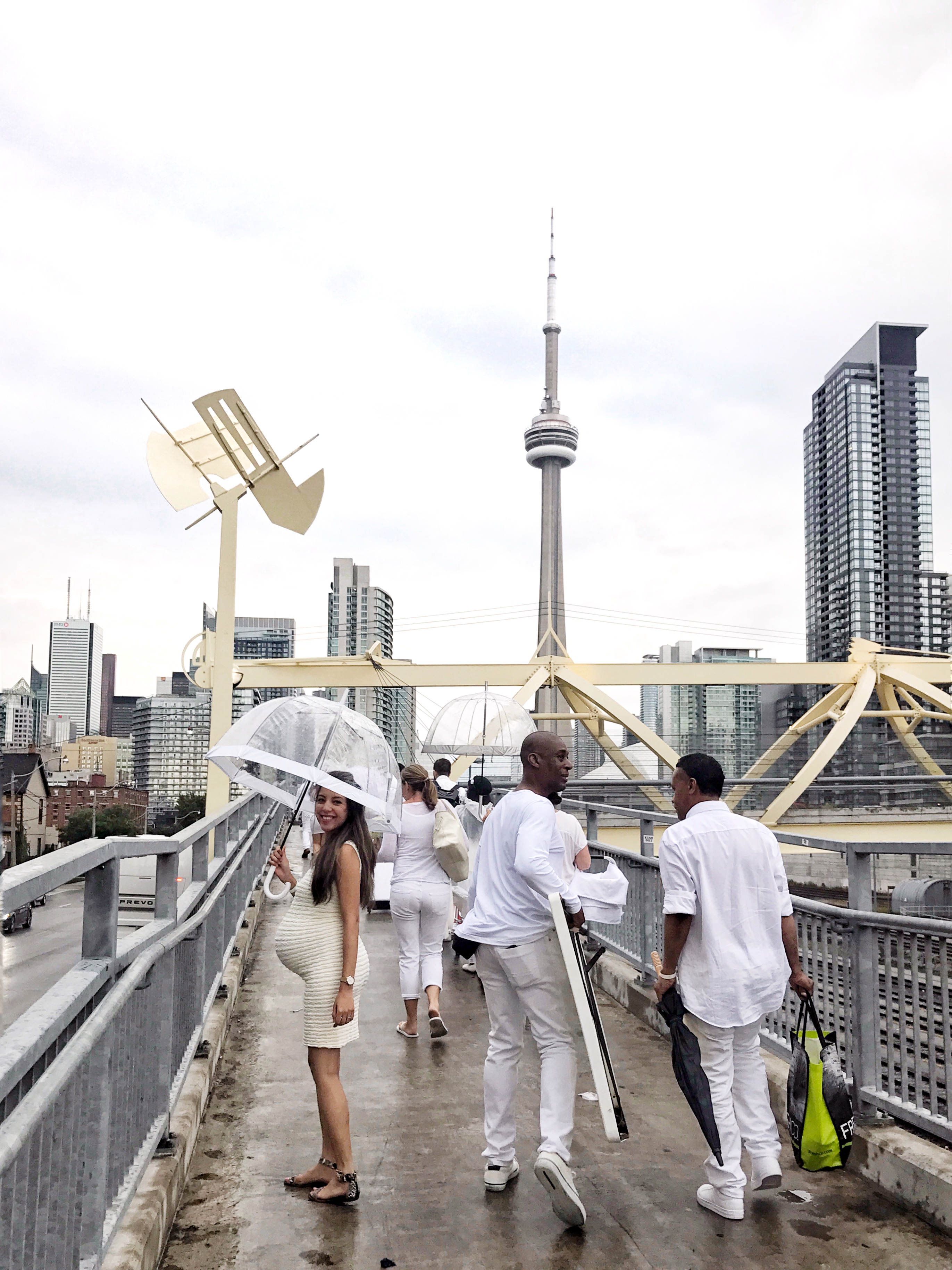 Attending the Event
A week before the event, guests select a meeting spot to gather before heading to the secret venue. Transportation to the venue is provided by the event organizers so that the location remains a surprise until you arrive. Your event leader will direct you to the venue.
Once you arrive, you are assigned a spot where you can set up your table, chairs, and meal. You are greeted by lively music, food and drink vendors, photo booth areas, and thousands of people all dressed in white!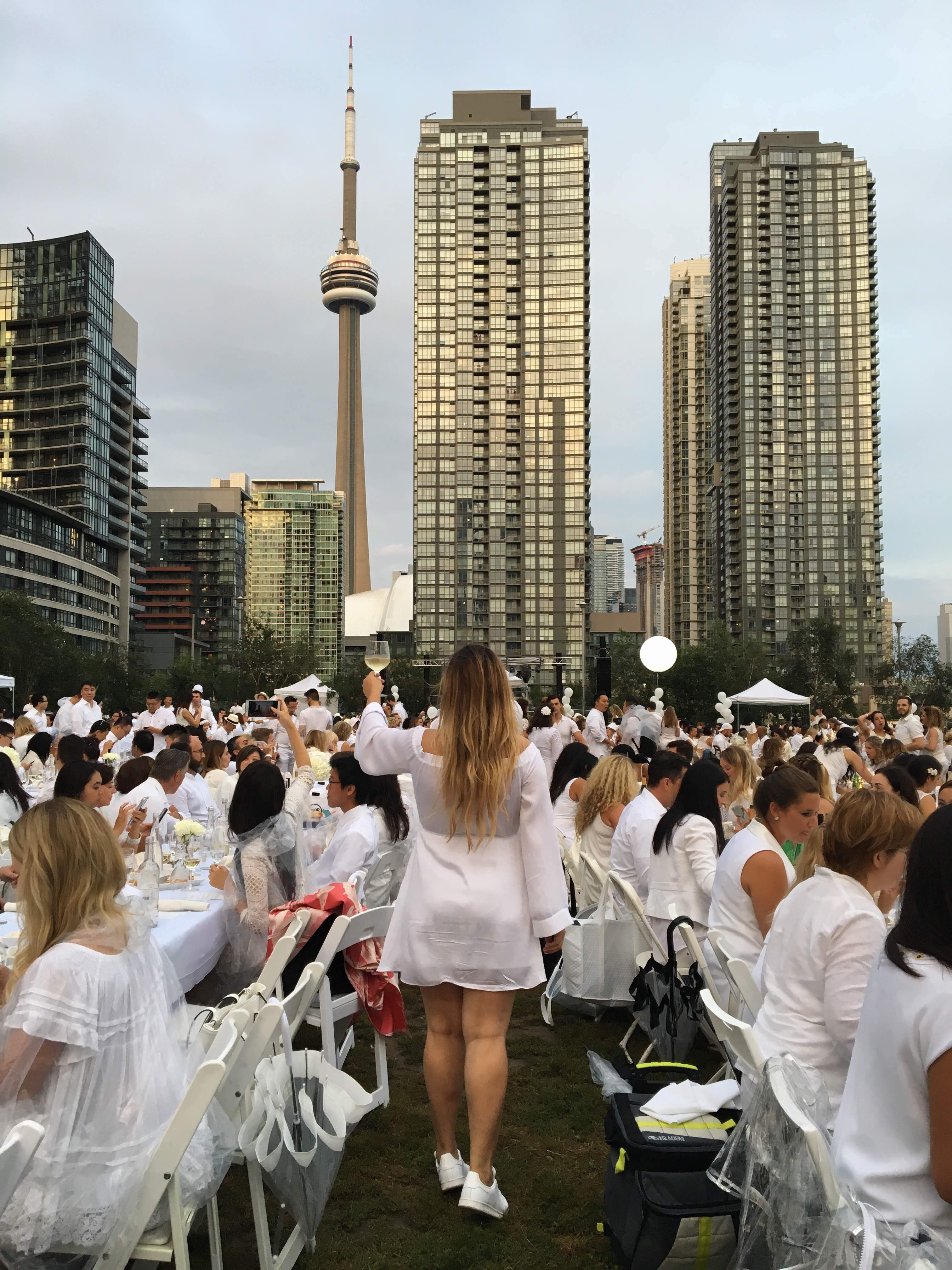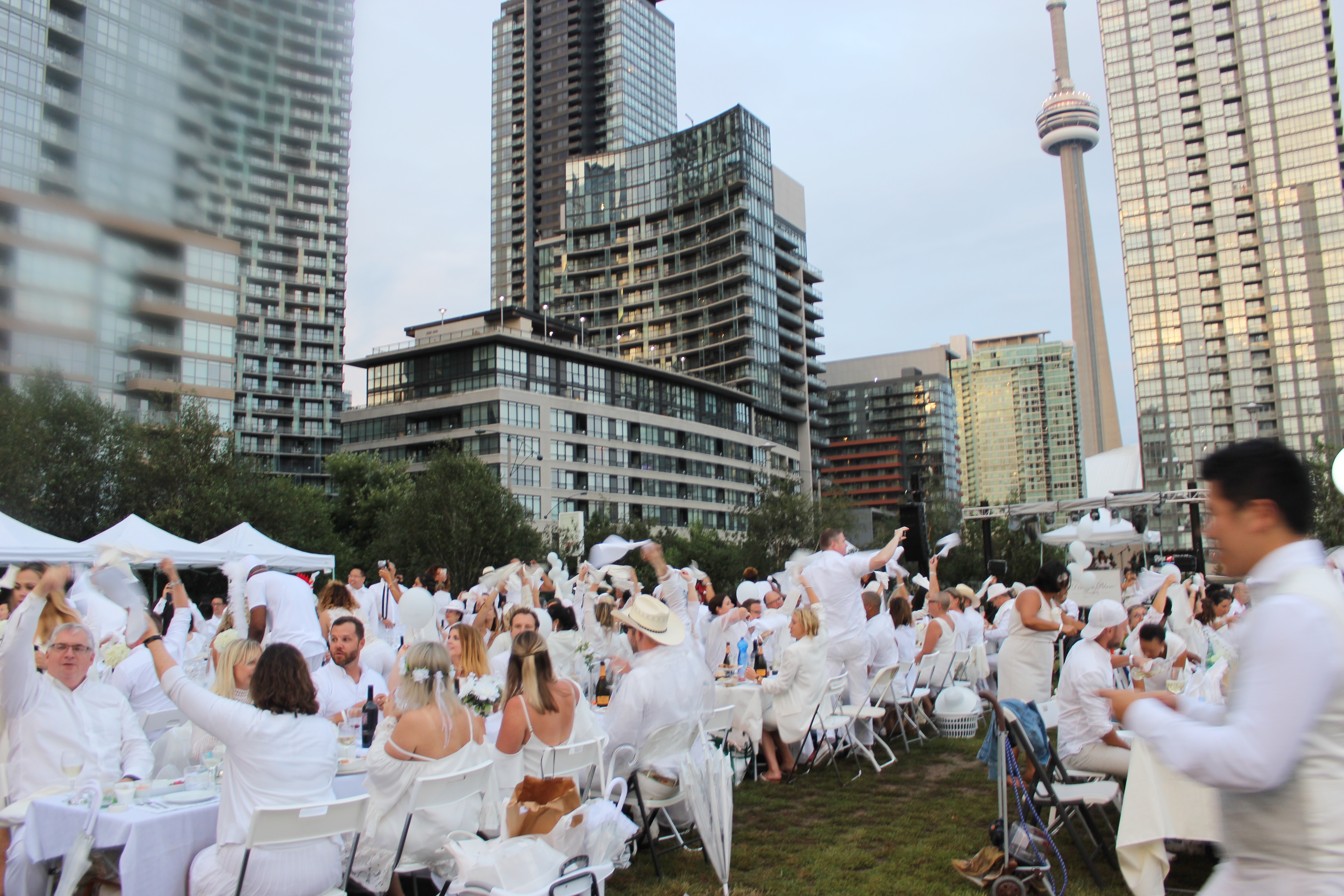 Dinner begins once everyone is settled. Guests raise their napkins and swirl them in the air to indicate the start of the meal.
By the time it gets dark, everyone is given a sparkler and all guests raise their lights in unison, creating a beautiful scene! The night ends with dancing and lots of music.
 
The Food
Part of the experience is the preparation process. Guests may bring their own basket full of picnic-appropriate goods or they can opt to order in advance and pick up prepared food at the event. You can get really creative here and bring your own prepped meal, or to make it easier you can pick up a few items from a local bakery before the event.
I tried out the pre-order option because I love the Food Dudes, who were catering this year's event. I got their famous kale salad with salmon, and it was fantastic! They also provided items for a charcuterie board, like a baguette, Boursin cheese, and some nuts and jams. You can also pre-purchase wine from the online store in advance of the event.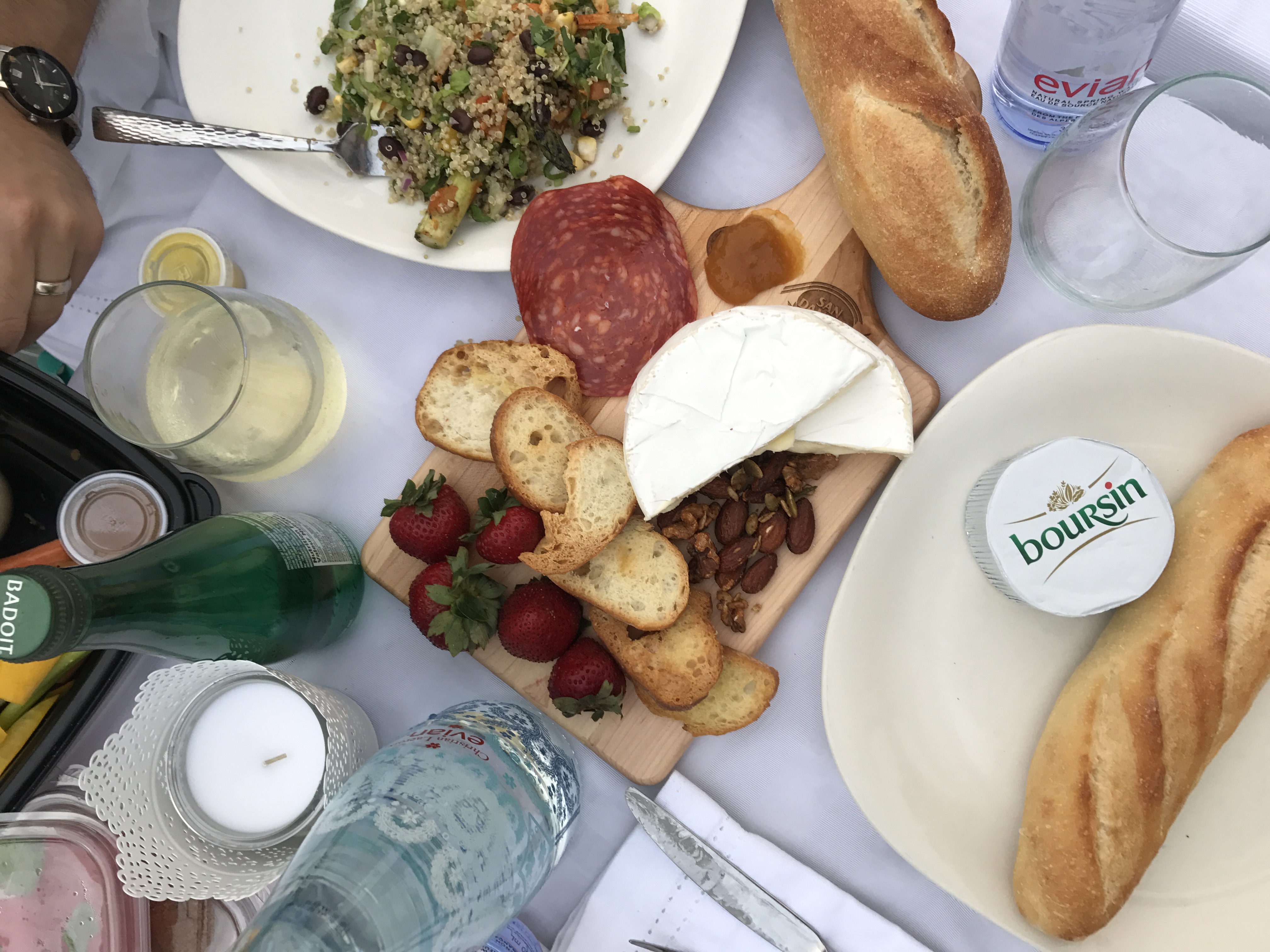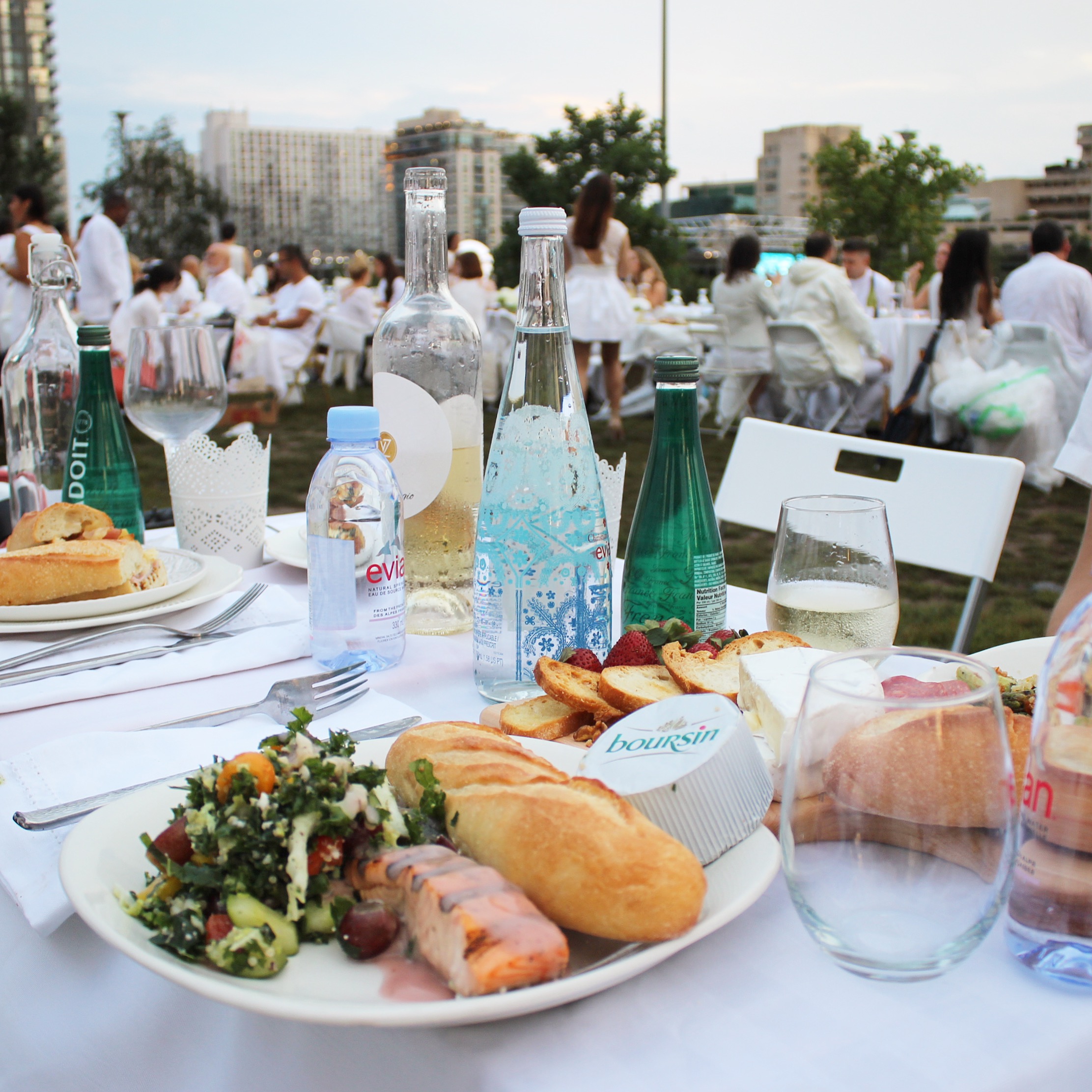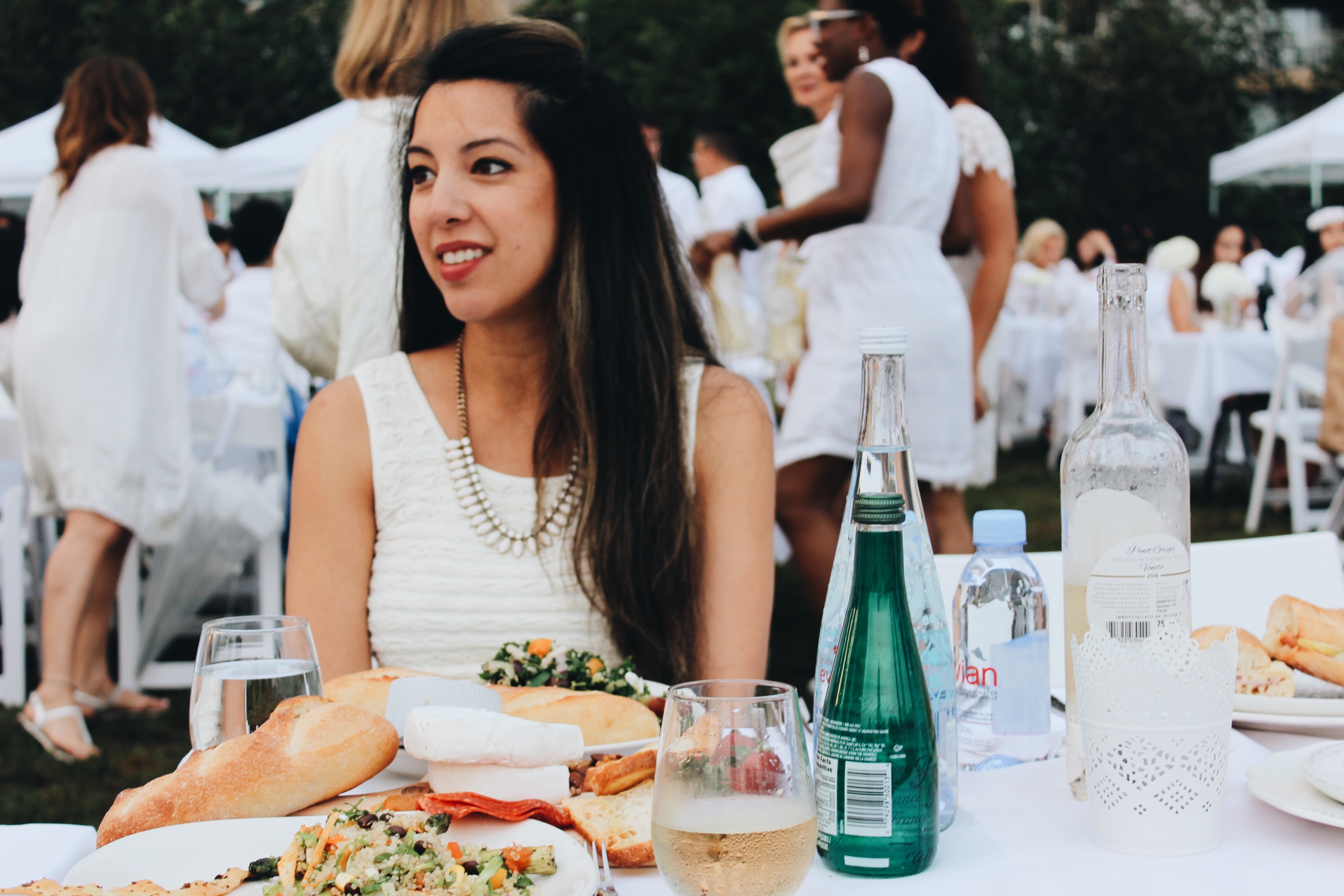 You may be wondering, why on earth do thousands of people from cities across the globe take part in an event that requires so much work? The thought crossed my mind too, but, having gone to my first Diner en Blanc, I can see why people look forward to it every year.
Diner En Blanc is truly a special dining experience for the food lover. It's magical – being surrounded by thousands of people dressed in all white as you take part in an elegant meal at a surprise location. It creates an ambience like no other.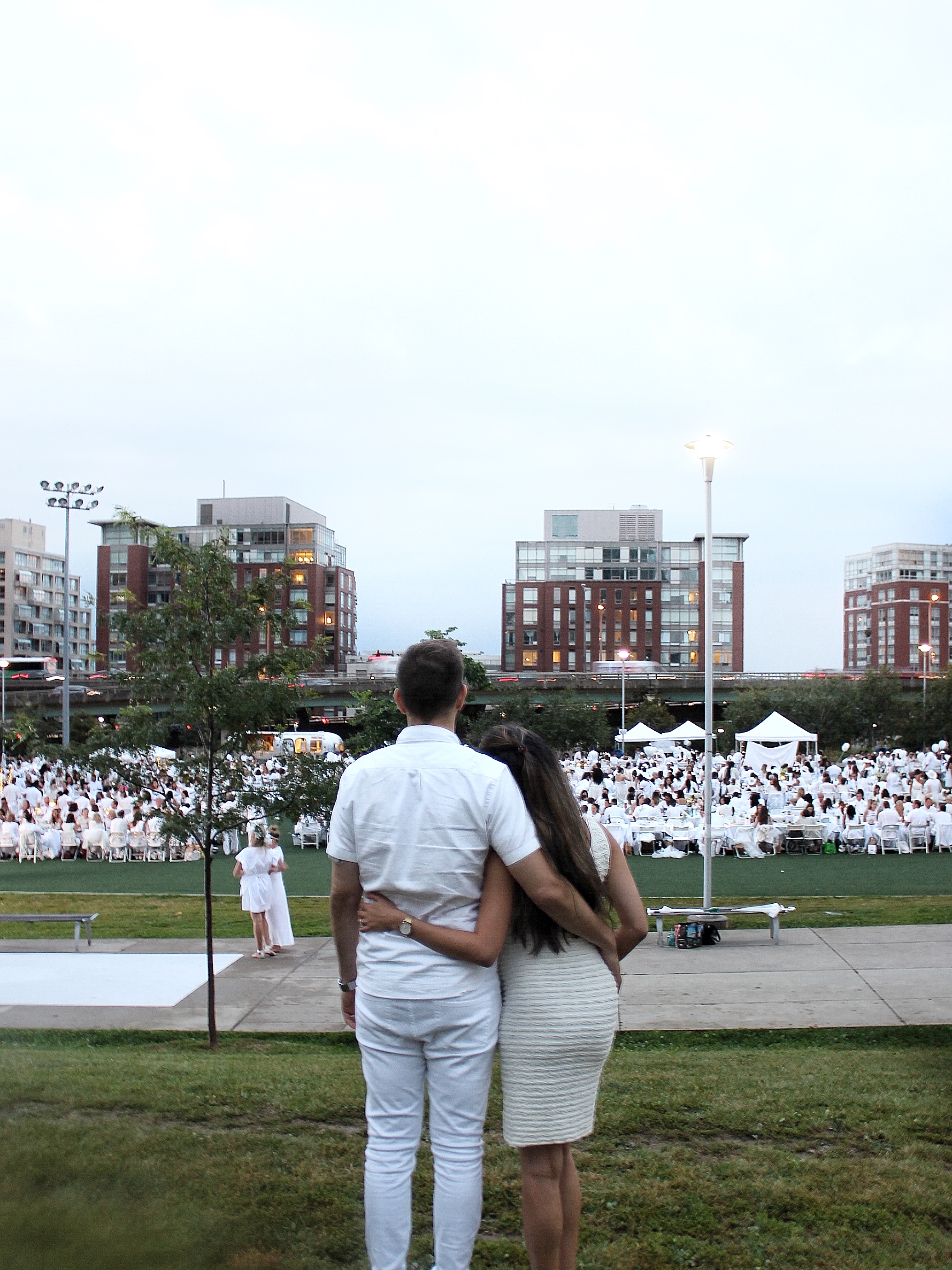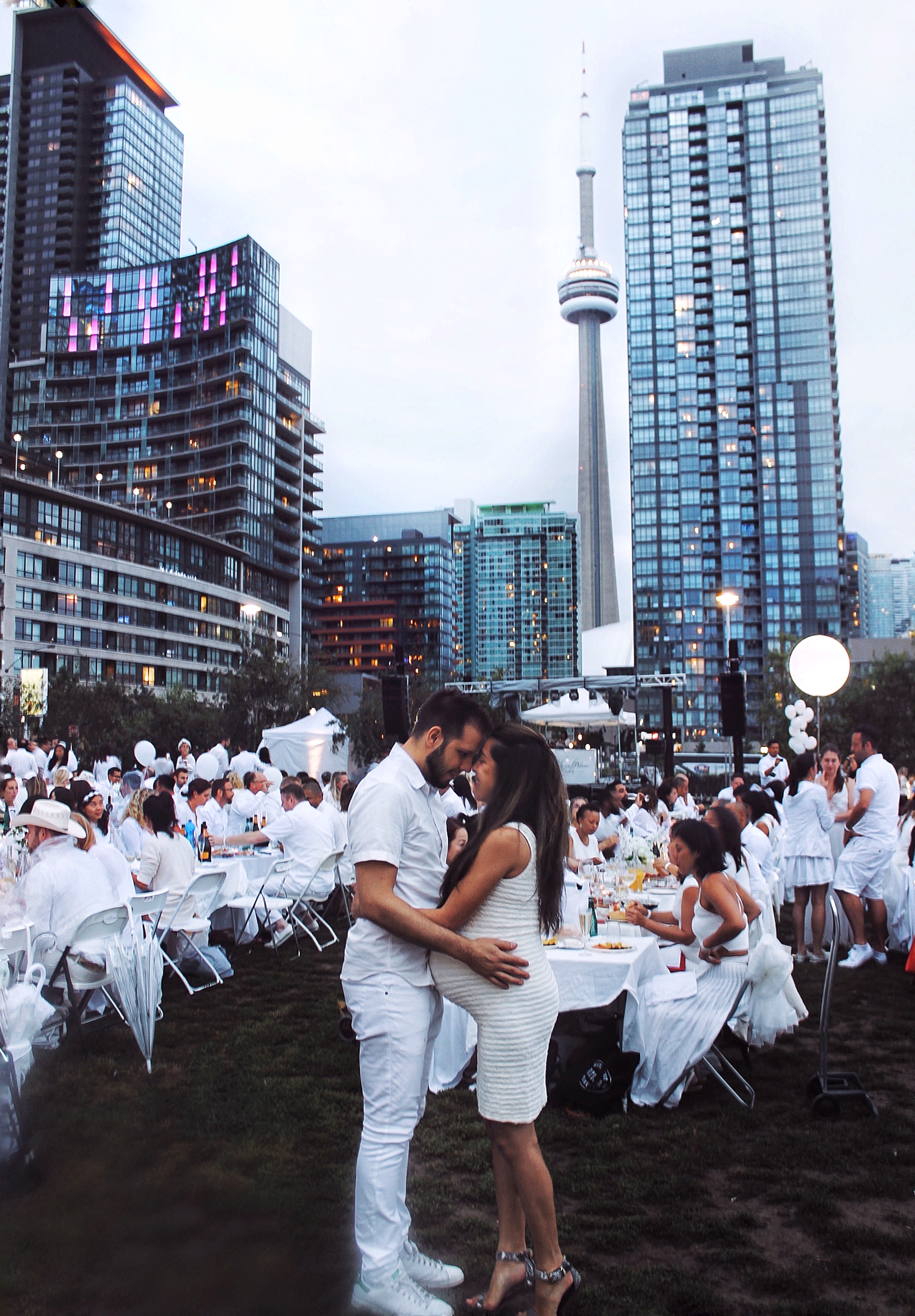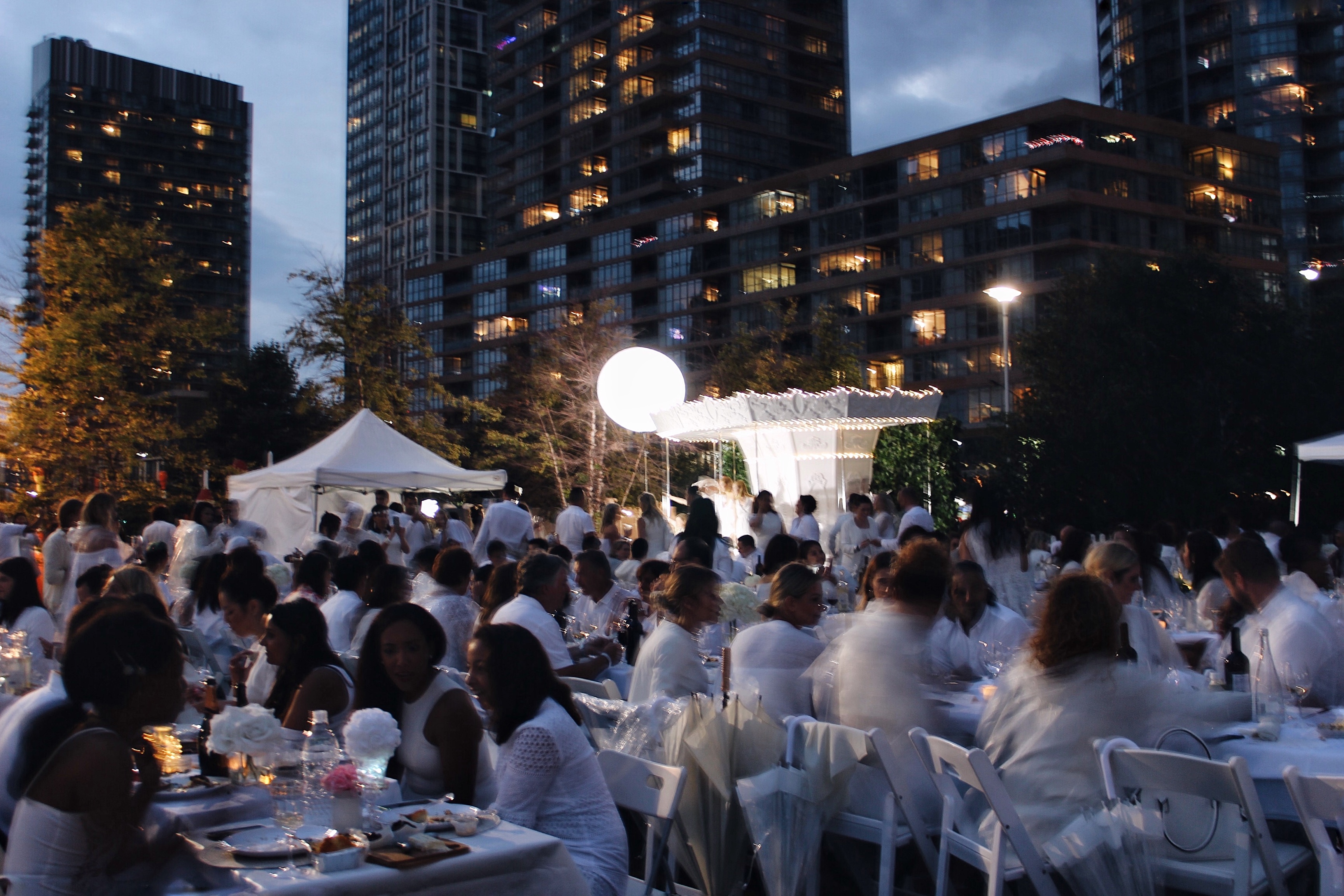 Thank you to my brother in law Tim for taking these photos! This post is not sponsored, however the meal and tickets were provided by the event organizers. As always, views are 100% my own!