My baby boy started eating FOOD! You must know that cooking is my love language. It gives me great pleasure to feed the people I love. I also love to eat. So it's my mission to introduce my baby to all the amazing flavours this earth has to offer.
I haven't always been a good eater. My mom tells me horror stories about feeding me. I was the pickiest eater and having me at the dinner table was a miserable experience. I've obviously come a long way…
I have a theory of how I eventually became a lover of all sorts of foods. Exposure. My Filipino-Portuguese-Indian upbringing exposed me to a wide range of spices, textures, eating/cooking styles and habits. I was eating roti with peanut butter for breakfast one morning and champorado the next morning. When I started dating my husband, I was introduced to Argentinian food (give me all the asado, chimichurri, mate, empanadas and alfajores!). Add in to the mix the friends I grew up with who introduced me to the wonders of Taiwanese food, Tamil food, Jamaican food, Congolese food, Japanese food… and you get the point.
All this to say that I believe it's all about exposure. So that's my game plan for my baby. Expose him to as many flavours and textures and cooking styles and spices as possible. Here's a look at what my baby has eaten so far!
Baby's first foods (week 1)
* Bananas
*Squash
*Sweet potato
*Strawberries
*Barley cereal
*Oat cereal
*Avocado
Baby's first family meal (week 2)
Coconut Chickpea Curry
Serves 4-6
This recipe is a good source of iron from the chickpeas, antioxidants from the turmeric, fats from the coconut milk and vitamins from the sweet potato and tomato.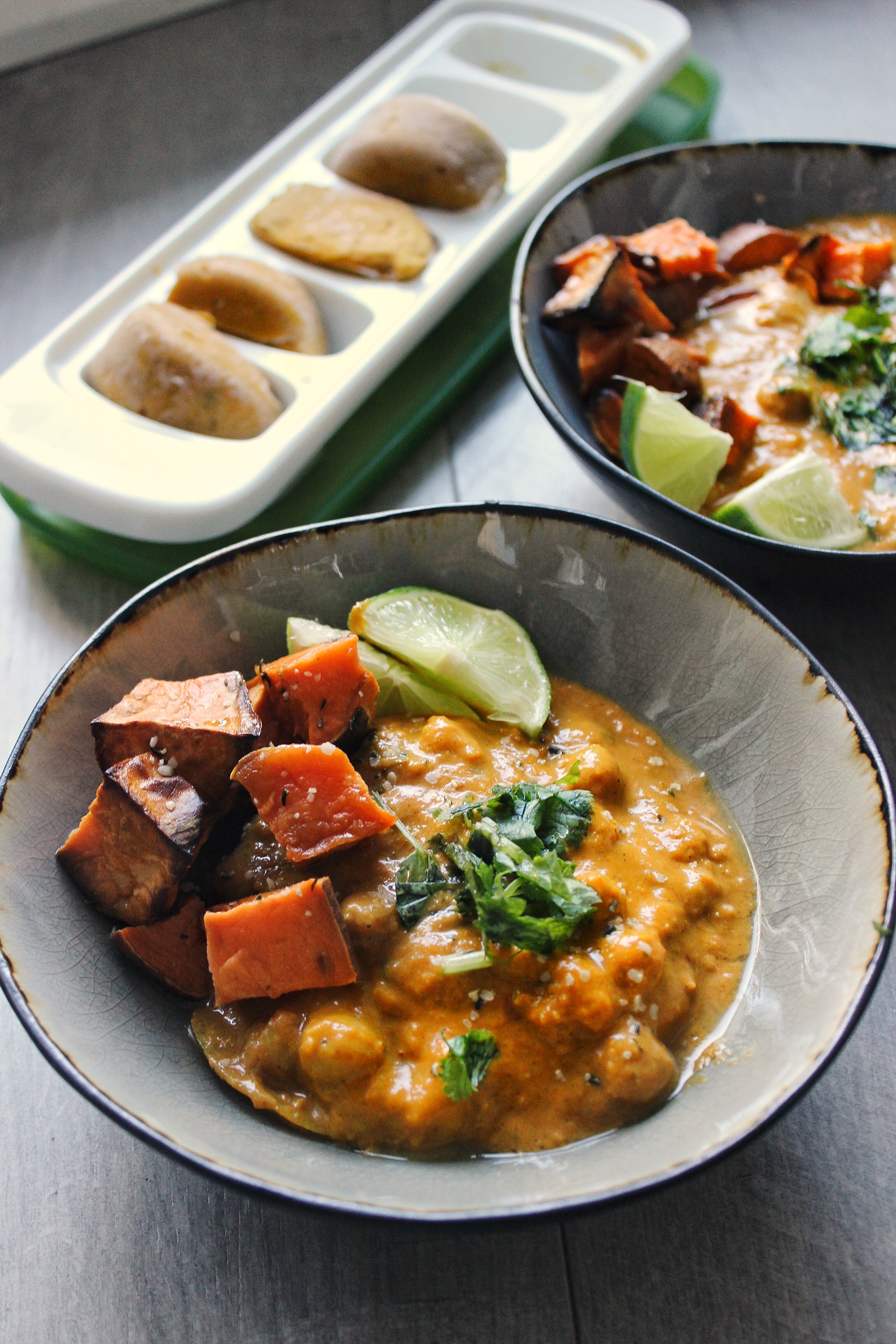 Ingredients
2 tbsp cooking oil, such as coconut, ghee or grapeseed oil
4 medium onions, chopped
8 cloves of garlic, chopped
2 tsp each of turmeric, ground cumin, ground coriander
1/2 cup of pureed tomatoes (or 1/4 can of diced tomatoes)
2/3 cup of water
1/2 tin of coconut milk (BPA-free)
1 large tin of chickpeas (BPA-free)
Juice of 1 lime
Bunch of freshly chopped cilantro
FOR MAIN MEAL: Sauté the onions on medium heat for 8 min, until translucent. Add in chopped garlic and spices and sauté for additional 2 min. Next add the plain tomato sauce and 1/2 cup water. Let simmer for 5 min. Blend all ingredients in a mixer to form the sauce. Add a tin of chickpeas and half a tin of coconut milk. Simmer everything for at least 20 min on medium heat. When ready to serve add chopped cilantro and juice of one lime. Serve with roasted sweet potatoes and/or steamed rice. Season with salt and pepper AFTER you remove baby's portion.
FOR BABY FOOD: Remove cooked portion of curry for baby, which you can blend later, before adding any salt to the main dish. Store in fridge for up to 3 days, or in freezer for up to 3 months.