Rice really is the perfect grain. It is affordable, nutritious (contains potassium, magnesium, vitamin B6 and iron), quick to make, and extremely versatile! For those with gluten sensitivity, rice is naturally gluten-free. Did you know that rice is grown right down south in the US? I especially like having a bag of organic, long-grain white rice grown in California in my cupboard pantry.
When I think about the one food that is the most familiar and comforting to me, I think of rice. I grew up in a multi-ethnic family: a Portuguese mom, Filipino dad, Punjabi step-dad, and later on, marrying into an Argentinian family. My group of friends represent nearly every continent in the world. And in all of these homes, rice is served. It is served in a variety of ways. As part of U.S. Rice "Think Rice" campaign, below are my 5 ways to enjoy rice on 5 different days:
1) Decadent coconut rice puddings
2) Morning fried garlic rice & beans
3) Fancy Portuguese seafood rice
4) Comforting Filipino ginger congee
5) Savoury stuffed rice and bean peppers
With many of us being homebound and embracing our inner home cook, I wanted to show how I use rice to make different dishes that can be eaten any meal of the day. The recipe I am sharing below is one that is inspired by my mother-in-law, who introduced me to stuffed peppers. I love how filling, comforting, and plentiful this dish is; you can make it for a crowd or cook it on a meal prep Sunday. It starts with a big batch of rice and beans, which can be made the night before and served with a variety of dishes (my hubby actually likes it in the morning, with fried eggs). You then mix it with a tomato meat sauce and top it with lots of cheese, and bake it in the oven. It's a great meal for the cooler weather.
You can find more rice recipe inspo on www.riceinfo.com.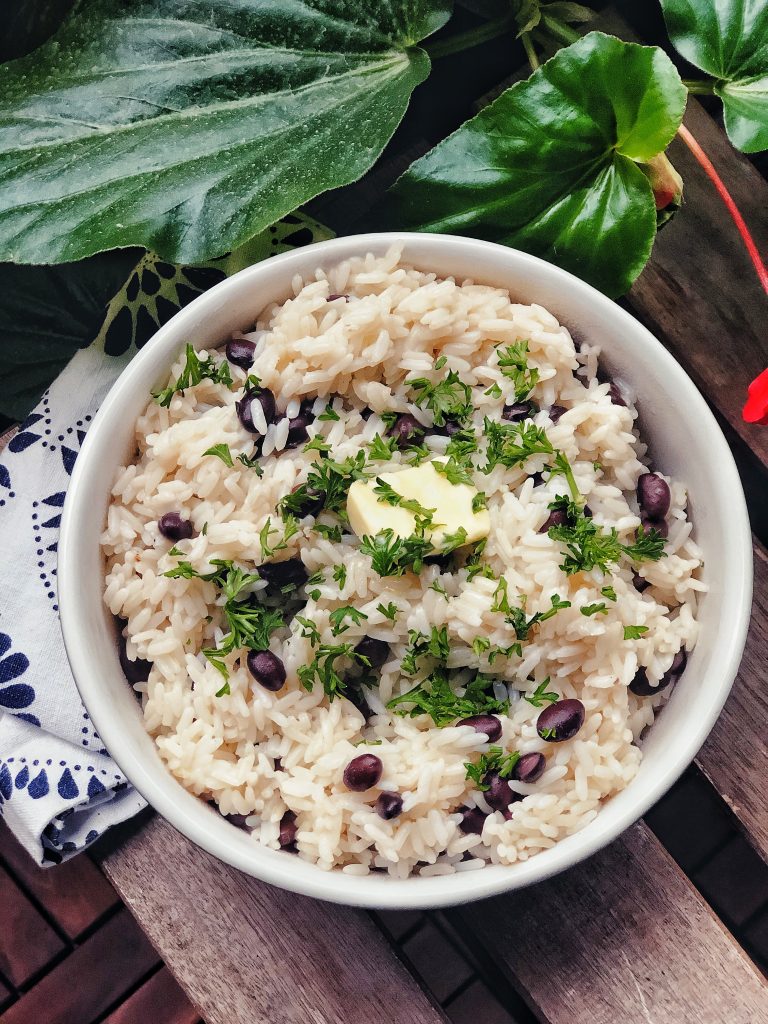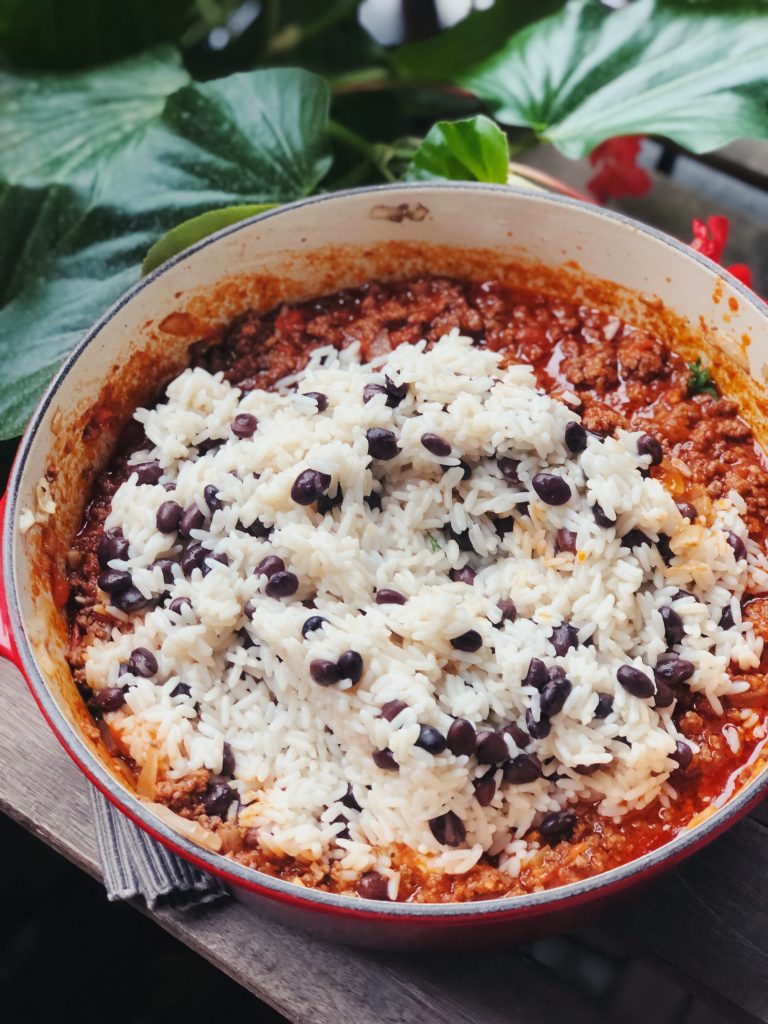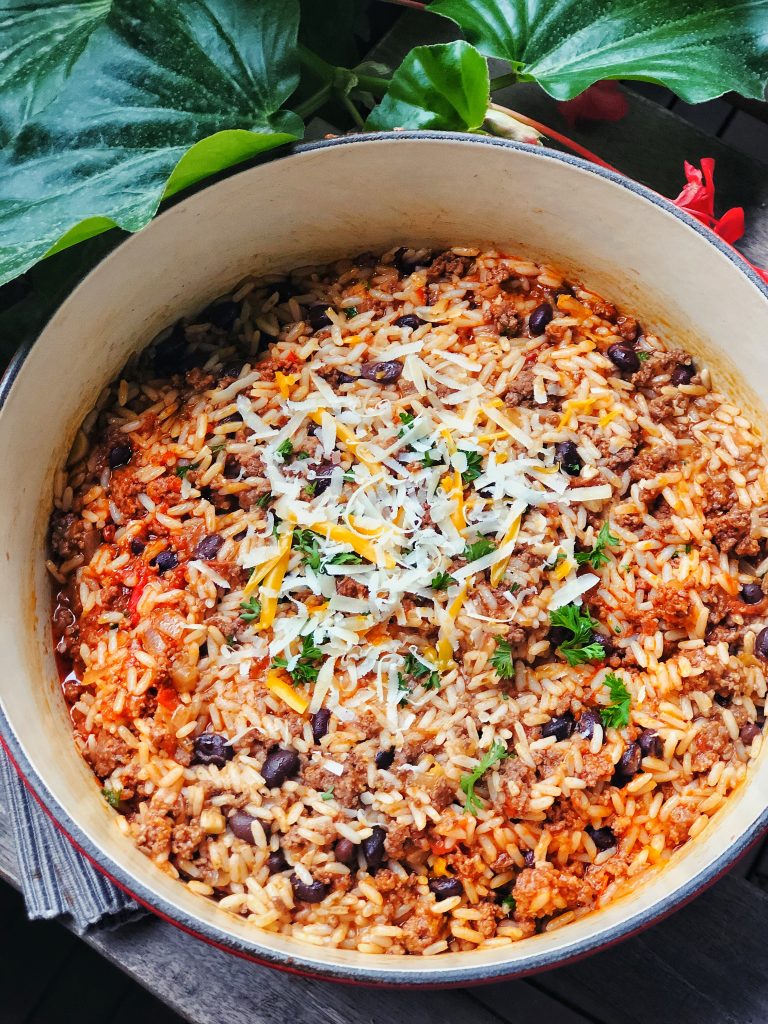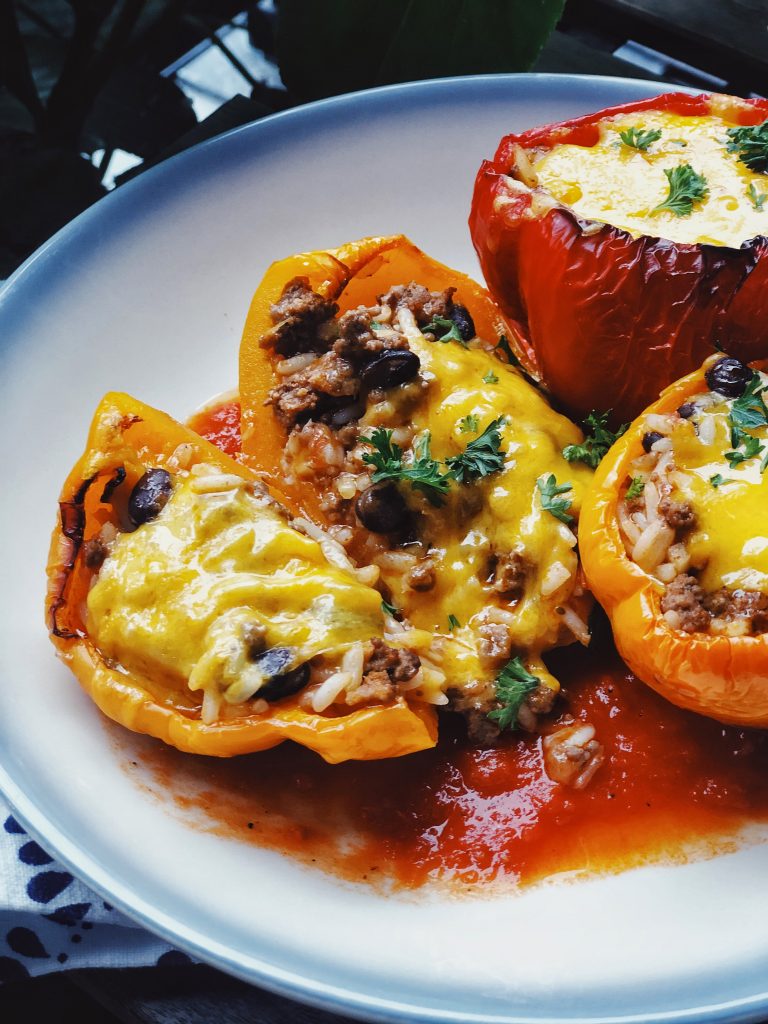 Ingredients
For the rice and beans
Serves 6-8

2 cups of U.S.-grown organic, long grain white rice
4 cups of water
1 tin of black beans
1/2 tsp of salt
1 tbsp butter

Rinse 2 cups of U.S.-grown organic long grain white rice and add to a pot with a tight lid. Add 4 cups of water, 1/2 tsp of salt and bring to a boil on the stove. When it starts bubbling, reduce the heat to a low simmer and cook, covered, for 15 min, until all the water is absorbed. Add 1 tbsp of butter and a tin of black beans. Mix, and serve topped with chopped cilantro or parsley. You can refrigerate for a couple of days. You can also make this with coconut milk instead of water.
For the stuffed peppers
Serves 4-6

8 peppers
1 medium onion, chopped
2 cloves of garlic
1 tsp of dried oregano
1 lbs of ground beef (optional)
4 cups of cooked rice and beans
1 jar of your favourite tomato sauce
Shredded parmesan and cheddar cheese

Preheat oven to 400. Remove caps from the peppers and clean out the seeds. Place in a baking dish with some water in the bottom, and roast in the oven while you make the filling.

For the filling, start by frying the onion in some olive oil for about 4 min, on medium high heat. Add the garlic and fry for another minute. Add the tsp of dried oregano, then the ground beef (if using). Fry the beef until it is fully cooked. Add your tomato sauce and cooked rice and beans.

Take out your peppers from the oven. After about 20 min they should start to look soft. You want them to be cooked and sweet. Drain the water and add in some tomato sauce to the bottom of the baking dish. Fill each pepper with the rice and bean filling, and top with cheeses. Bake for another 15-20 min.
Disclaimer: This post was created in partnership with U.S. Rice.