There are three things that make an exceptional muffin: taste, texture, and colour. This recipe for strawberry crumble muffins incorporate all those three elements. Not only are they moist and fluffy (you never want to bite into a dense muffin!), they have a tasty crumble topping that looks absolutely stunning with the addition of bright red California strawberries!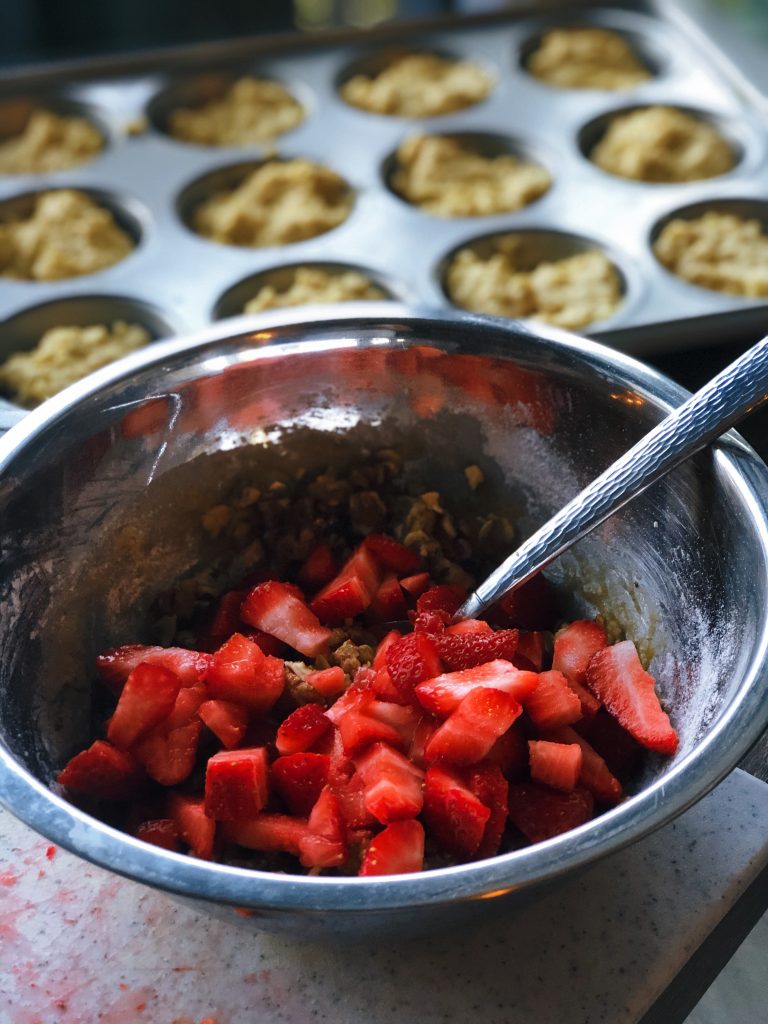 Strawberries are my absolute favourite fruit and I like to enjoy them all year around! I am glad we have access to organic California strawberries during the cooler months in Ontario – which is what I used for this recipe. I have been making strawberry crumble all summer long, but with the cooler fall weather rolling in I am feeling like a more wholesome snack that is easy to bring on the go or freeze for meal prep.
The trick with these is to only mix the batter 10 times! It's ok if there is a bit of flour that is left unincorporated. Just do NOT over mix!The addition of the crumbly topping makes the bite just perfect.
The recipe for these was adapted from Rainbow Plant Life's vegan strawberry streusel muffins. We are not vegan so I did use (homemade) buttermilk, yogurt and butter (but you can feel free to vegan-ize this with almond buttermilk, coconut yogurt and coconut oil).
For more information on California strawberries and other great recipes like Pizzelle Shells with Strawberry Salsa, head to https://www.californiastrawberries.com/
Hope you enjoy!
–Sarah
Ingredients
1 1/2 cups flour
2/3 cup almond flour
2 teaspoons baking powder
1/4 teaspoon sea salt
1 tablespoon lemon zest
1 tablespoon lemon juice
1/4 cup milk
3/4 cup plain yogurt
1/2 cup maple syrup or brown sugar
1 ripe banana, mashed
2 tablespoon olive oil
1 teaspoon vanilla extract
Strawberry Crumble Topping
1/4 cup all-purpose flour
1/4 cup rolled oats
1/4 cup brown sugar
3/4 cup chopped pecans
1/2 cup fresh California strawberries, diced
3 tablespoons melted butter
1/4 teaspoon sea salt
Method:
Preheat the oven to 425°F and butter or line a non-stick muffin tray
Zest and juice the lemon, then add 1 tbsp of juice to the milk. Let sit and curdle for 10 min (this is your buttermilk)
In a separate bowl, mix flours baking powder, salt and lemon zest.
Mix the buttermilk, yogurt, maple syrup, mashed banana, oil, and vanilla and add it to the wet ingredients.
Stir together with a wooden spoon ONLY 10 times. DO NOT OVER MIX. It's ok to see some streaks of flour.
In a separate bowl, combine all the ingredients for the strawberry crumble topping. Stir together with a fork until well combined.
Fill each muffin tin with batter evenly into each lined muffin cup. Top each muffin with a generous amount of the crumble.
Place the pan to the oven at 425 then reduce the temperature to 350°F. Bake for 25 minutes.
Cool on a wire rack for 10-15 minutes before enjoying.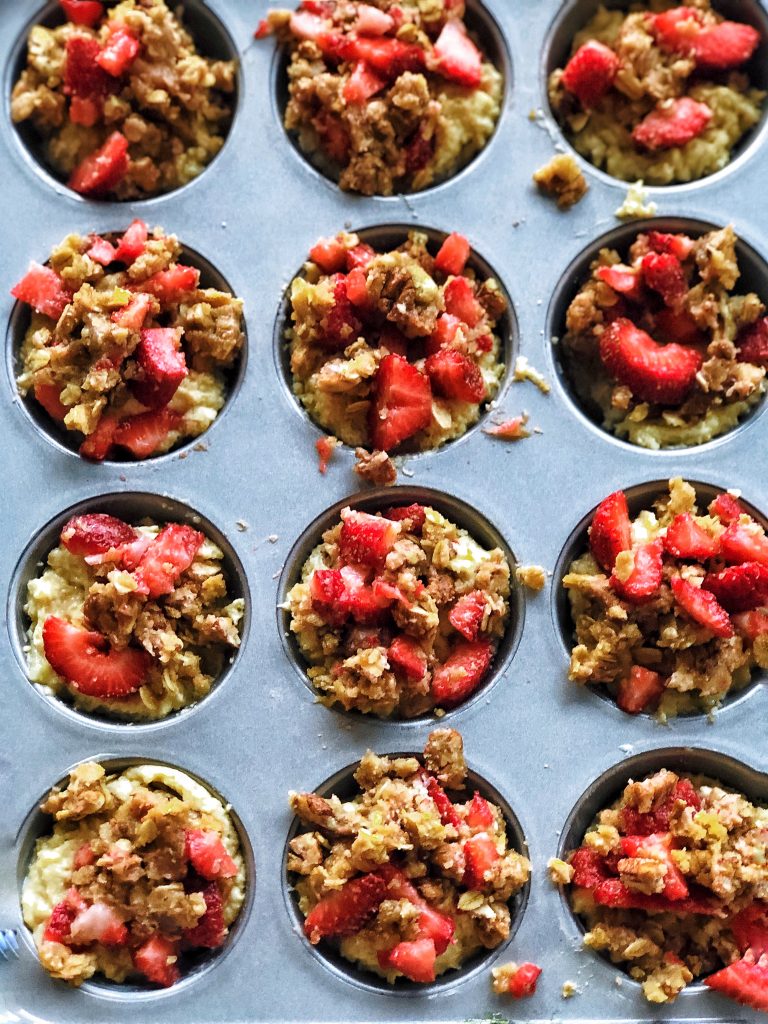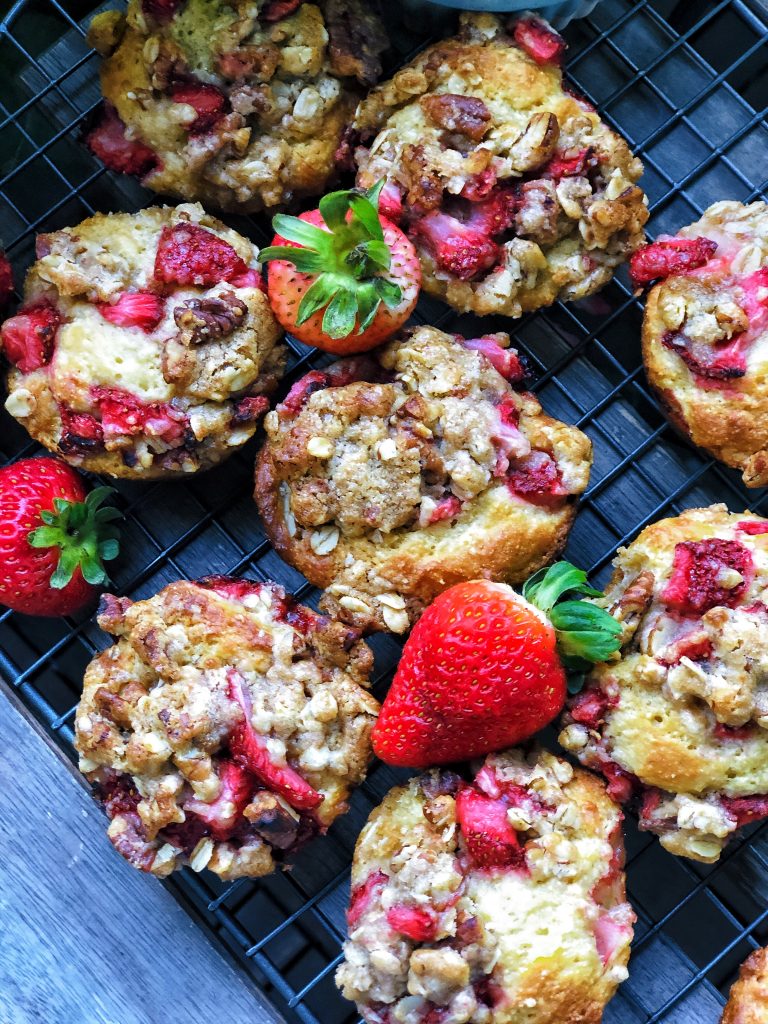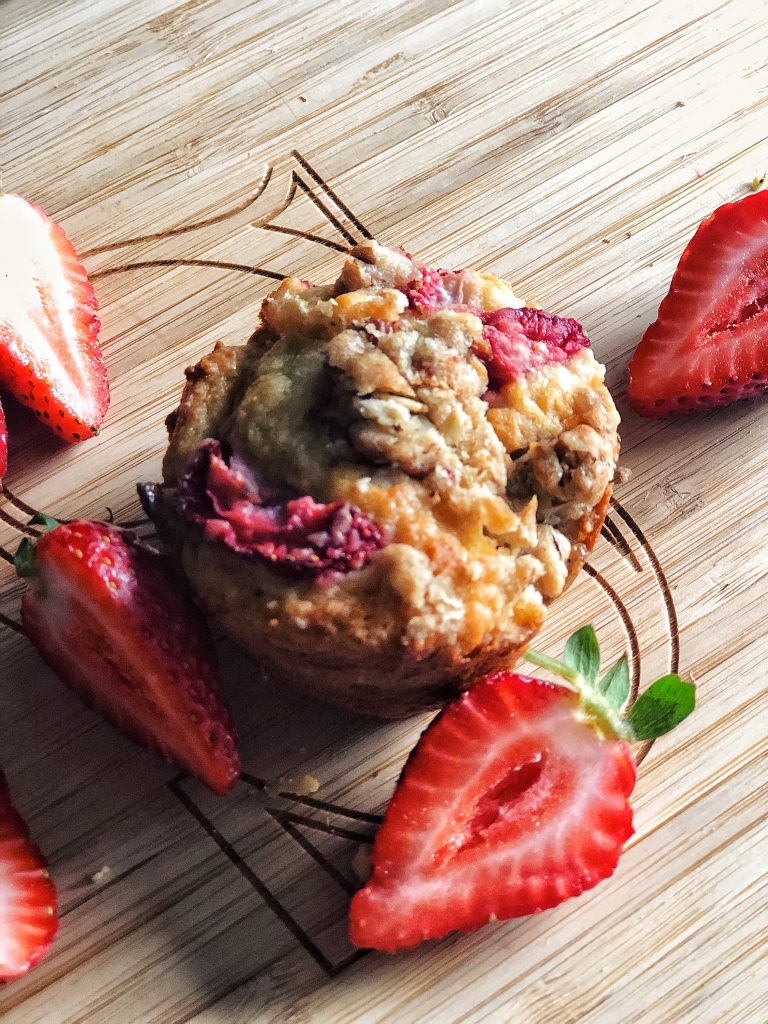 Disclosure: This post was created in partnership with California Strawberries. You can find more recipes here.