You may have picked up in previous posts that I am trying to eat more vegetarian meals. My main reason is because I want to add more fruits, vegetables, nuts and legumes to my diet. I realized that I rely way too much on meat + carbs and often neglect to add any sort of veg to my dishes. As a mom, I also want to lead by example and get my baby boy used to eating a variety of vegetables.
My one challenge with going vegetarian was not knowing how to cook filling and tasty meals without using meat. My first few vegetarian meals were a flop and left me unsatisfied and hungry! But the more I practice (and read through tons of vegetarian cook books) the better I am getting at creating satisfying meals.
This eggplant parmesan is one such meal that just hits the spot. It is tasty and satisfying, and has quickly become a regular on my home cooking menu. I think the key is having a good quality sauce and using lots of cheese. Typical recipes use ricotta cheese but I chose to omit it in favour of mozzarella cheese curds because I found the ricotta made the dish a bit too mushy for my liking.
And because I am all about efficient cooking these days, I set aside some plain roasted eggplant and blended it with spinach and tomato sauce for my baby. Baby food for the week. Done.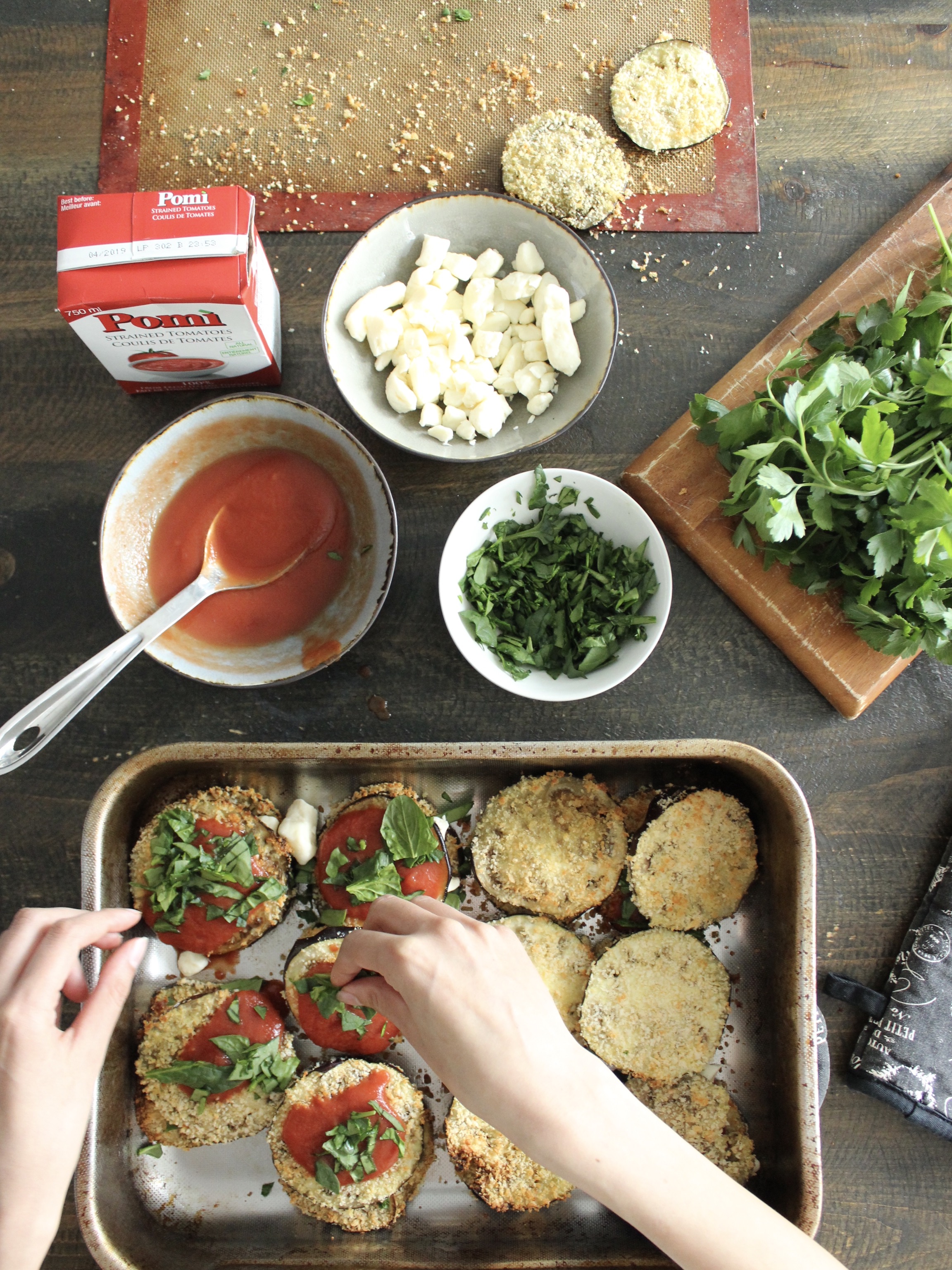 Roasted Eggplant Parmesan
Serves 6
3 small eggplants or two large eggplants
1 tbsp salt
1 jar of good quality tomato sauce
1/4 cup of parmesan cheese
2 cups of panko bread crumbs
2 eggs + 2 tbsp of water
1 cup of shredded mozzarella cheese (I think I used more
1 cup of chopped spinach
1/4 cup chopped parsley
Preheat the oven to 375. Thinly slice the eggplant into circular pieces about 3/4 inch thick. Lay them on a flat surface sprinkle with salt (but leave some aside without salt, for the baby food). This will help get some of the moisture out. Let them sit for about 15 min. Pad them dry with a paper towel. 
Beat your eggs and add tbsp of water. Combine the panko breadcrumbs and parmesan cheese. Coat your eggplant slices with the egg mixture, then cover them in panko bread crumbs. I like to press them down into the panko to make sure lots gets on there.
Lay your coated slices of eggplant on a baking sheet and drizzle a bit of olive oil on them. Put in over for 25 min until golden brown. You can flip half way through.
Once your eggplant slices are nice and crispy, get a baking pan and add a bit of tomato sauce to the bottom of the pan. Add the first layer of eggplant, then top with chopped spinach, parsley, cheese and sauce. Add the second layer of eggplant, and continue layering until you have none left. Top with more cheese and bake in the oven for 25 min. 
Serve with cheesy polenta, pasta, or in a sandwich. 
FOR BABY FOOD: set aside some leftover unsalted roasted eggplant and blend with a handful of your chopped spinach and a bit of tomato sauce.