Let me start off by saying I am not a vegetarian. Last year David announced that he wanted to stop eating meat. It was right around the time I got pregnant and let me tell you, I RESISTED! I do almost all the cooking in our house and did NOT feel like making such a huge change in the middle of an *already huge* life change. I agreed to make one vegetarian meal a week.
Fast forward to today. I am cooking vegetarian meals 3-4 times as week. I had to become friendly with a whole host of ingredients that I rarely used to buy at the grocery store. I'm talking, beans, lentils, seeds, nuts, and lots of veggies.
Eventually I will get around to putting some of my favourite recipes up on the blog, but I am still testing them out to make sure they really taste good for you! For now, I thought it might be helpful to share the items I tend to have on my grocery list at any given time, now that we are eating less meat.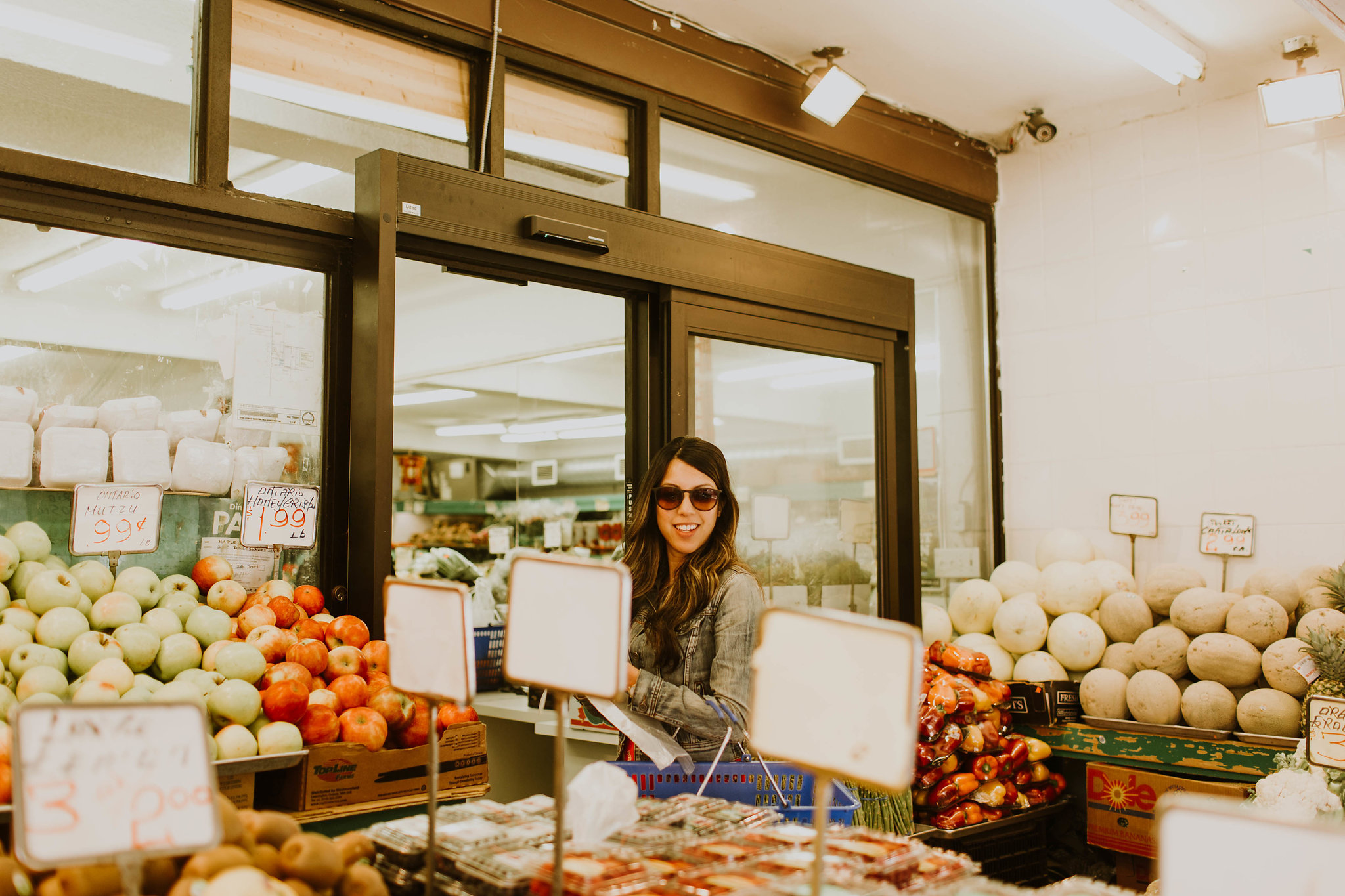 ---
Grocery List for a *Transitioning Non-Vegetarian* Vegetarian
Veggies/Fruits
Sweet potato (good diced, roasted and put in salads or as a side. Or loaded)
Squash (good for soups, or stuffed)
Spinach/arugula/kale (for smoothies, side salad, or kale chips)
Eggplant (good for eggplant soup, eggplant parmesan, eggplant lasagna)
Portobello mushrooms (good as a sub for burgers)
Onions, garlic
Vine tomatos (for soups)
Brussel sprouts (tastes good roasted with balsamic vinegar)
A couple red or yellow peppers (good to dip in hummus or black bean dip)
Carrots (good chopped, raw, for dips as well)
Bananas (good for freezing and putting in smoothies – they add a creamy texture)
Frozen mixed berries or blueberries, for smoothies or compote
Apples (a good snack with peanut butter, sunflower seed butter, or almond butter)
Lemons, limes (great for dressings)
Protein
Eggs
Canned stuff (BPA free from Whole Foods): chickpeas, black beans, kidney beans
Lentils, dried  (red and black)
Anchovies or sardines – for pastas
Salmon or another fish
Peanut butter
Grains
White and Brown rice
Spaghetti, Linguini and Orzo
Quinoa
Polenta (cornmeal)
Baguette (for crostini) or sourdough loaf
Breadcrumbs
Baking
Gluten-free Rolled Oats (good for energy bites, granola, overnight oats)
Cocoa powder – I love to make hot chocolate with this
Maple Syrup (good for refined sugar-free desserts)
Coconut oil (I buy a huge tub at Costco. It's the best value for money! Lasts so long)
Unsweetened coconut flakes (bought in bulk, at Bulk Barn)
Dates (tastes soooo good dipped in nut butter and coconut)
Raw cashews (bought in bulk at Costco. This bag will make about 5-6l of cashew milk)
Dairy
Cheese – usually aged cheddar, feta, parmesan, and/or goat
Plain yogurt or skyr
Butter
Whole Organic milk
Other
Vegetable Stock (Costco)
Flax seed; sunflower seeds (Bulk Barn)
Tinned tomatoes
Olive oil (for salads)
Grapeseed oil (best value at Costco – used for frying)
Spices: cinnamon, turmeric, Italian spice, red chilli peppers, parsley, sage, cumin, coriander, thyme)