Learning how to get out and about with a baby is like taking your first overseas trip. On my first outting, I basically packed the whole nursery in my stroller and diaper bag. When it came time to retrieve something I needed, the scene was similar to that of a disgruntled traveller looking for their passport at the airport security baggage check. Needless to say, this wasn't working out for me.
Having gone on a few outtings now with my baby, I've quickly figured out what items make life a lot easier while I am on-the-go. I've compiled a list of some of my top five products for the mama on-the-go.
1// Baby Carrier
A baby carrier has got to be my most recommended newborn item. There are tons on the market, but I prefer the Baby Beluga Bamboo Wrap and Junior Foxes Sling (my husband prefers the Baby Bjorn Carrier One). In my experience, my baby stops fussing and falls asleep as soon as I put him in the wrap. The wrap mimics the womb; they feel your warmth, hear your heartbeat, and feel secure. Plus you get to use both hands. And if you need to take the subway or bus, there's no need to worry about carrying a stroller up and down stairs, or fitting it on a packed street car.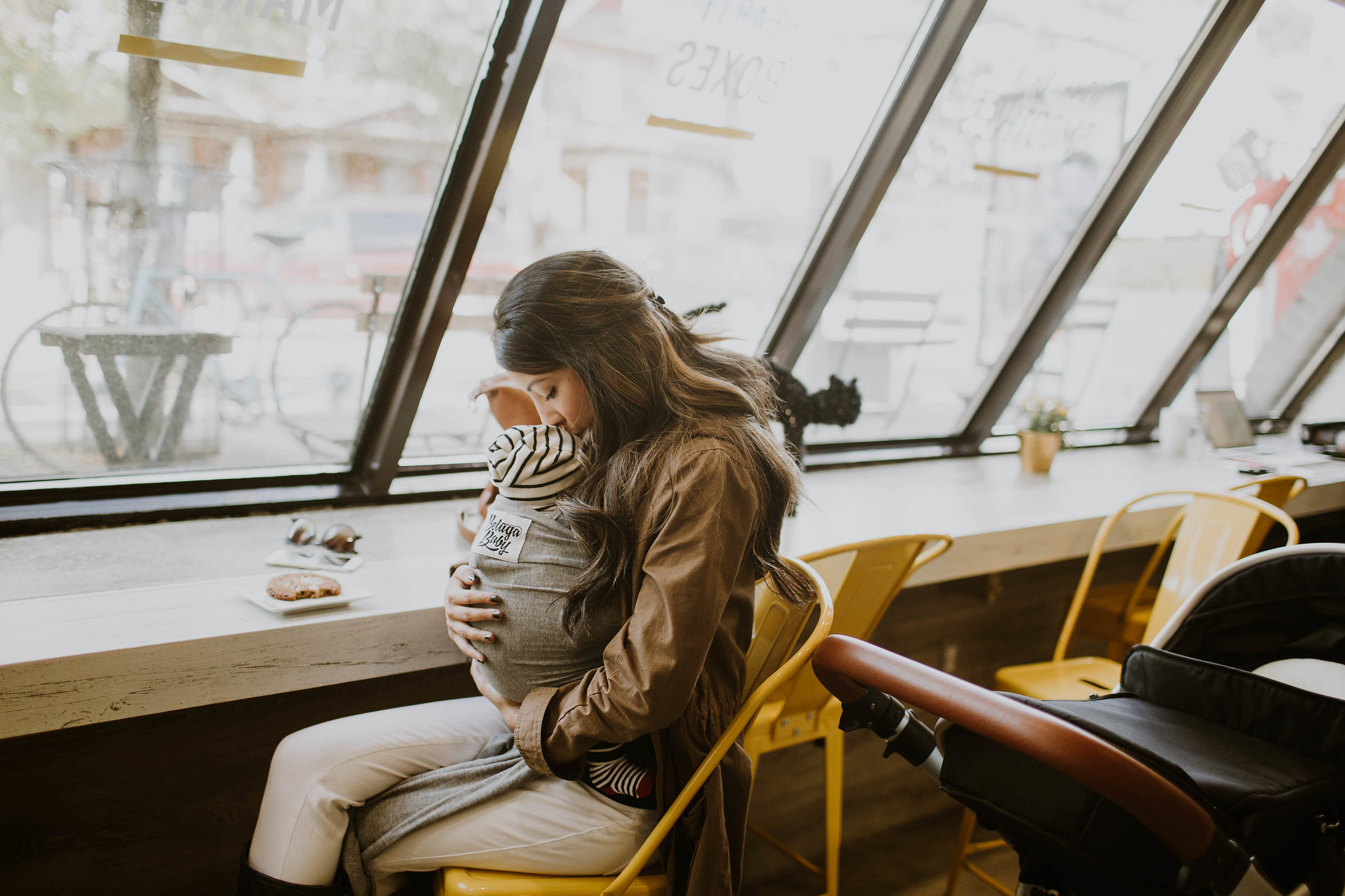 2//Lily Jade Diaper Bag
Let's be real. Diaper bags can be pretty hideous. But why should a new mom have to compromise style just because their bags are holding baby items now? The answer is they don't. Before having a baby, I liked to carry around a nice purse. Now that I have a baby, I still want to carry around a nice purse. But – I need it to be practical. I have found the Lily Jade Diaper Bags to be both stylish and practical. First of all, it's a purse that can turn into a backpack. Second, their bag organizer  is especially useful and can be purchased on its own (and placed in ANY purse/backpack).
3// Nursing Tops and Bras
I tried the whole nursing cover thing but found: 1) it's a pain to get out of the bag when baby is crying for milk; 2) it's a hassle to get baby to latch while trying to hide under a cover; and 3) baby doesn't particularly like being covered by a sheet while nursing. I much prefer breastfeeding tops that just open at your chest. I found a ton of cute tops (like this one) at Carry Maternity. A nursing bra easily clips on and off at the strap for easy access. Works well in combination with a nursing top. Again, found some great ones like these at Carry Maternity.
4//Chewable Pacifier Clips
A pacifier clip helps keep your baby's pacifier in reach and off the floor. No need to have to search deep within your diaper bag for this tiny item because that's the last thing you want to spend your time doing when your baby is fussing. The chewable beads are great for teething babies. There are some pretty cute ones on the market. We use this one.
5// Guzzies and Guss Connect Stroller
When I don't have to take the subway, it is definitely nice to have a stroller to hold the weight of the baby and all his gear. I have mentioned this stroller before, but I want to highlight a few other features. It has a good size basket at the bottom, where I can pack in my gear plus any other things I purchase while I am out (i.e. groceries). The infant insert is a convenient addition as well, because my baby can nap comfortably while we are out. I also like the coffee cup holder, for obvious reasons.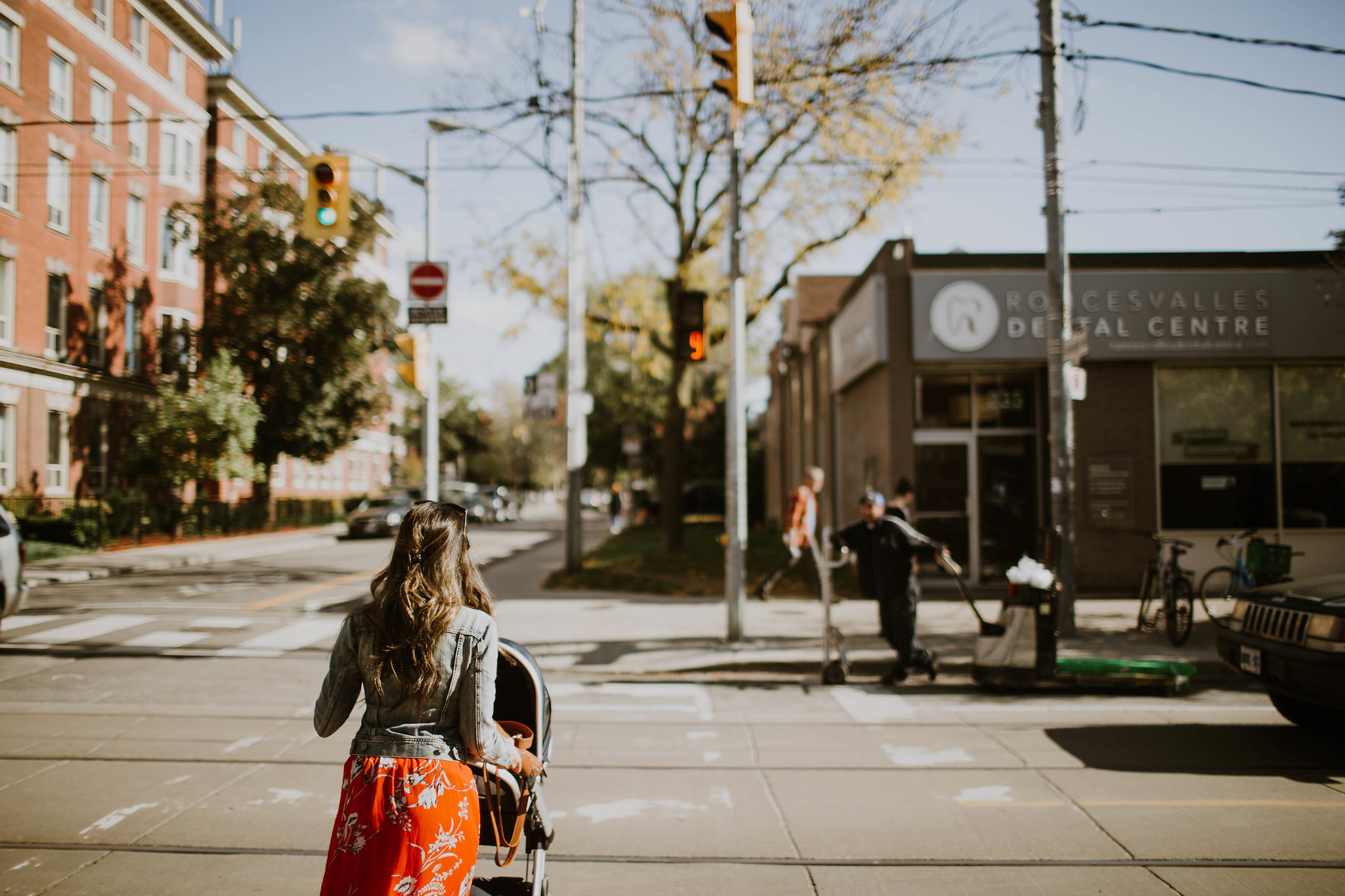 Disclaimer: this post was NOT sponsored however; the products listed were gifted to me. As always, opinions are 100% my own!