During this time of year all I seem to want to eat is soups and stews. From November to March, the air gets colder and the days get shorter in Toronto. Warm, thick and hearty soups are comforting and filling – especially when they are filled with things like rice and beans.
This recipe is inspired by one of my favourite food bloggers whose cookbook I have to thank for teaching me how to cook tasty and health vegetarian meals. I never really used to eat beans and legumes – but since David and I cut back significantly on meat we have had to lean on these plant-based proteins much more. I had no choice but to embrace them into my diet.
I love the tastes of beans – however, cooking them properly has always been my issue. To make the beans bio-available (and edible) you need to soak them for up to 12 hours before cooking. This is why a lot of people choose to used canned foods. While using canned is convenient, you can't compare the superior taste, texture and nutritional levels of beans cooked from scratch.
Recently I was gifted a T-Fal Multicook & Grains cooker. One of the key features of the cooker is its patented Nutri+ technology which allows you to cook nutritious meals while preserving the vitamins/minerals. Its built-in AI also provides you with step by step instructions and portioning presets so you know exactly how much ingredient and liquid is needed for the portion size.
I tested out the cooker by making some beans for this soup – which is quite similar to a minestrone soup. I used the Multicook& Grain cooker to pre-soak my beans and then added it to the soup to continue cooking with all the other ingredients. Trust me on this one – it's so good and completely vegetarian (to make it vegan, just omit the parmesan cheese). The Multicook & Grain speeds up the soaking process for things like beans (from 12 hours to 1!).
The great thing about this appliance is its versatility – you can use it to cook rice, quinoa, chickpeas, and lentils. You can even bake bread and a cake in there! I've always owned a rice cooker (I am Filipino – it's an essential) but this takes it to another level.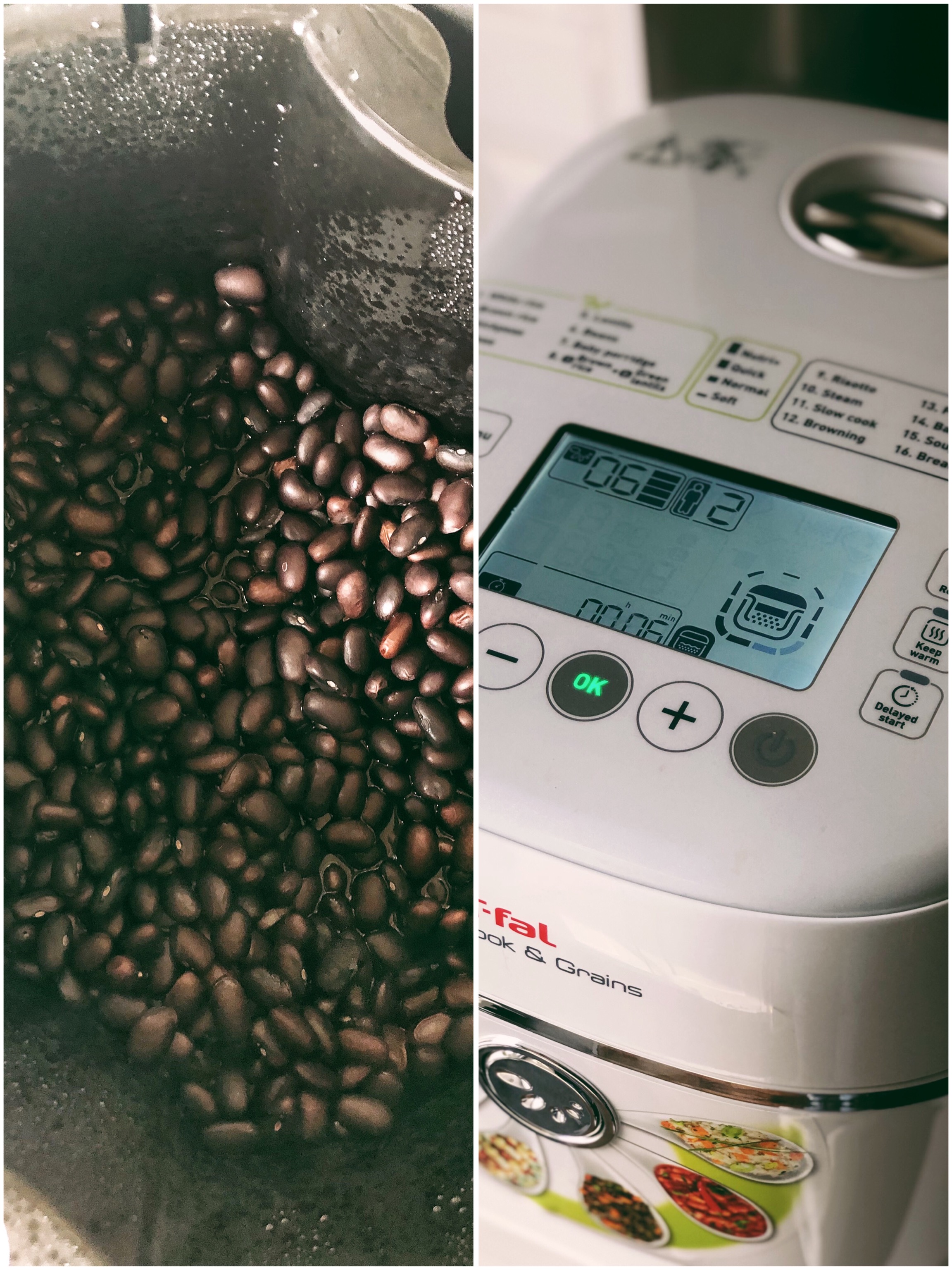 Rice and Bean Soup
Adapted from David Frenkiel's Double Sweater Minestrone Soup
Ingredients, Serves 6
4 tbsp olive oil
2 small onion, chopped
4 gloves of garlic
1 cup of butternut squash, cubed  (you can sub carrots or parsnips)
¾ cup of brown rice, rinsed
¼ tsp cayenne pepper
¼ tsp paprika
1 tin of crushed tomatoes
6 cups of vegetable stock
1 cup of pre-soaked black beans
1 handful of parsley
Parmesan cheese, for topping
Heat oil in a sauce pan on medium low heat. Add the onions and sauté for 10 min.  Add garlic, spices and squash and sauté for an additional 5 min. Add the tomato puree, tinned tomatoes, stock, rice salt and beans. Bring to a boil and reduce heat Simmer for 30-45 min or until the rice and beans are cooked, stirring every 10 to 15 min. Serve topped with freshly grated parmesan cheese.
Enjoy!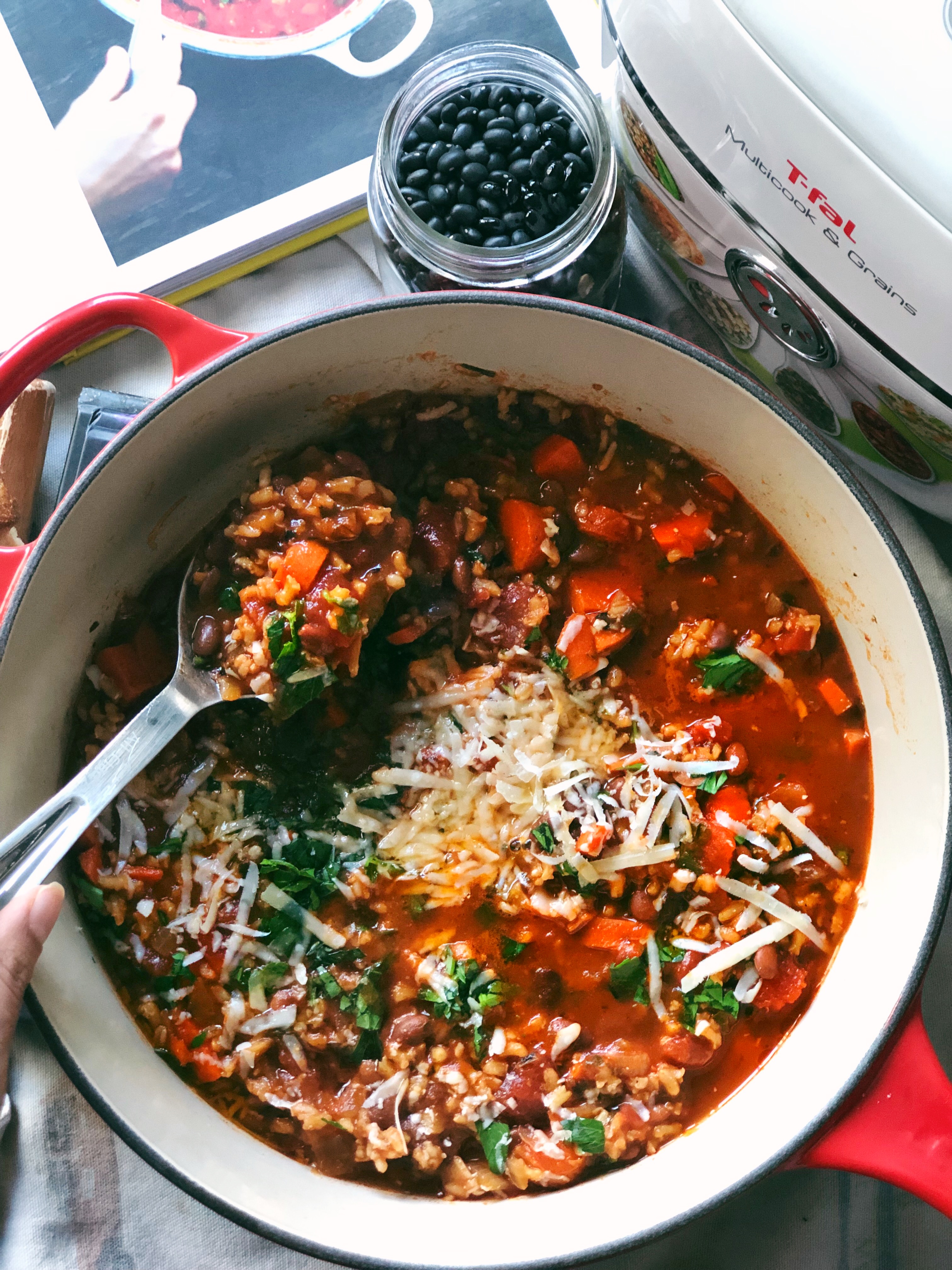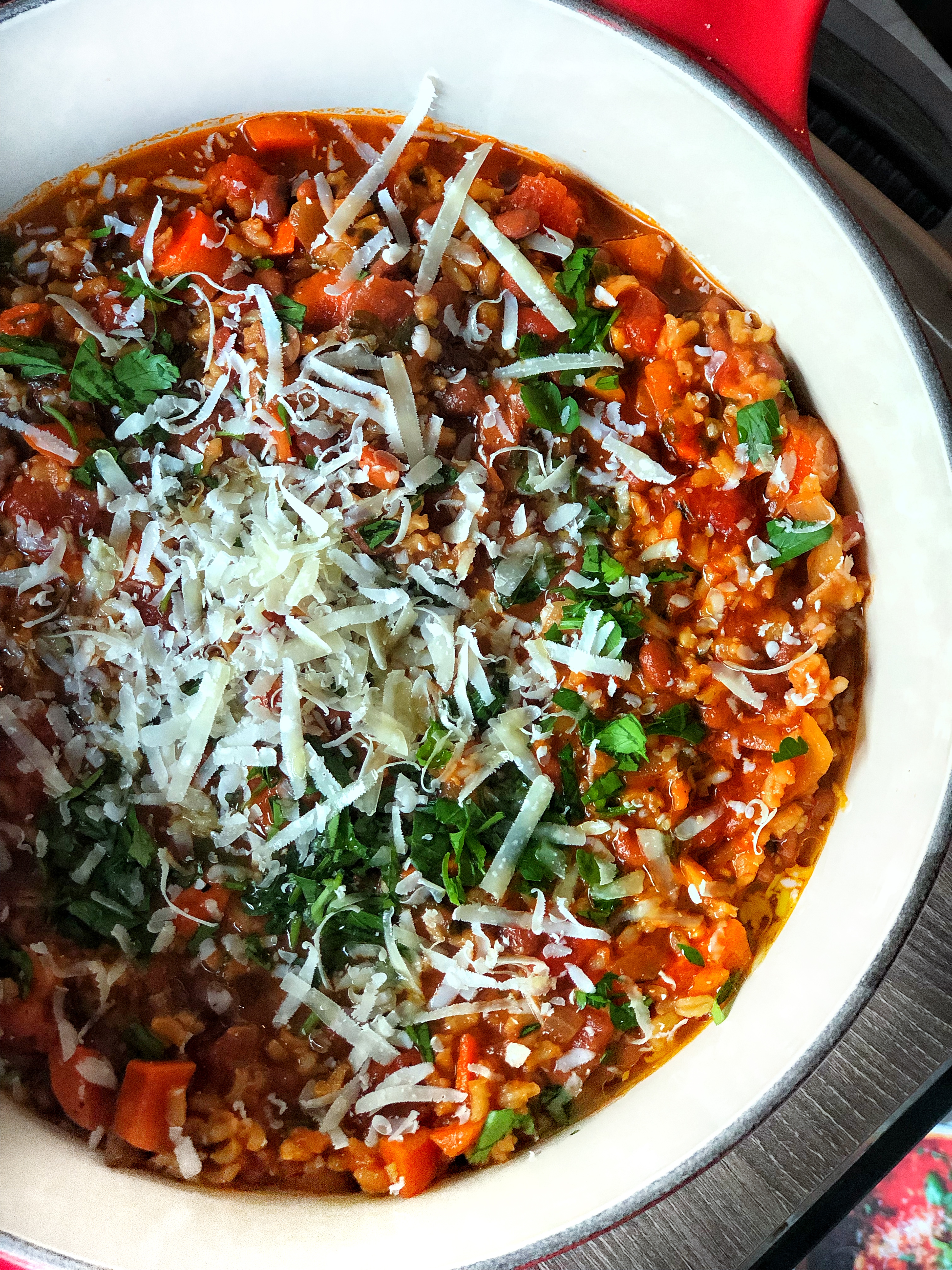 Disclaimer: This post was written in partnership with T-Fal. As always, opinions and food photography are my own.