I've always wanted a home birth. But I never imagined I would give birth at home during a pandemic. Now I realize it was the best birth choice for me and my baby girl. This is our story.
Considering a home birth during a pandemic
The predominant birth narrative in Western culture tends to be wrought with frightening images of screaming mothers and horror stories about unbearable pain and suffering.
But being the daughter of a doula, I grew up hearing positive birth stories shared by my mother; stories about women who birthed calmly and quietly, who rocked their hips back and forth through contractions, or who delivered their babies safely in the comfort of their own homes. I was intrigued by these stories, but a bit skeptical and unsure if this would ever be my story.
There were a few reasons I was considering a home birth. COVID-19 meant that I would need to labour at the hospital with a mask. I would only be allowed one support person, and only if they didn't present any symptoms. At the time of my birth, there was an outbreak of COVID-19 at the hospital I was planning to deliver in.

I considered a home birth for my first birth and had a positive experience labouring at home, but had to be transferred to the hospital because of meconium. I remember labouring in the hallway while waiting for a room, and having difficulty staying focused on managing the pain in an unfamiliar, sterile environment.
Home birth safety and considerations
As my due date approached, I discussed the option of a home birth with my midwives. Although the thought of labouring and delivering a baby in the comfort of my home seemed appealing – it would mean I couldn't access an epidural.
I questioned whether I would be able to endure the pain of child birth the second time around. I still had doubts and fears to work through; so we made no decisions about where we would deliver, and simply parked it as an option.
Did you know that home births are just as safe as hospital births, for healthy low-risk pregnancies?
The Association of Ontario Midwives states that for every 1000 babies born, 999 are born alive and live past 28 days regardless of whether they were born at home or in hospital. The Canadian evidence-based research also shows that there is less chance of birth interventions (i.e. forceps) for home births than people who give birth at a hospital.
Making the call
At 39 weeks and 4 days, I woke up at 5am with mild but rhythmic cramps. I tried to get more rest, but all I could do was announce to my friends/family that today might be birth-day.
Camden woke up and David logged into work. I told them both that I was probably having the baby today, but still wasn't too sure. We went about our morning routine as usual while my light cramps continued.
The cramps kept coming, this time every 15 min, so I called my sister to come over to watch Camden. I made lunch for everyone and ate a big meal… I was starving! My light contractions continued but I distracted myself with cooking. After loading up on a heavy serving of beef kebobs and rice, followed by a couple of muffins, I laid down and rested.
David logged off work around 2pm and started tidying the house, changing the sheets and gathering towels in preparation for a potential home birth. He was the only one who knew that I was considering it.
Laying down became increasingly uncomfortable. I needed to move so I decided to labour standing up in the bathroom. David and Celina lit some candles, put on some music and filled the tub with warm water and bath salts. Truthfully, I wanted to be left alone in the privacy of the dark bathroom where I could focus on my baby.
Contractions felt familiar but were bearable. I breathed and swayed my hips through each wave, closing my eyes and letting each pass through me with as little resistance as possible. I told myself each surge was bringing my baby closer.
David kept checking in on me and giving me tea to stay hydrated. Every now and then he would hug me, kiss me, rub my shoulders, and hold me close. It felt good to run hot water down my back in the tub and move around as I pleased.
As the contraction grew more intense and my consciousness started to lift, I had to make the call. Was I going to stay or was I going to the hospital?
A moment of self-doubt and courage
Even though the pain felt tolerable, I was scared of what was to come. "I can't do this, what was I thinking?" I said to myself. I told my sister I was going to the hospital to get an epidural. She looked at me with sincere eyes and said something simple but powerful, "Why? You're strong-willed, you can do it here."
Her belief in me gave me the courage in a moment of doubt to follow through with what I wanted deep down: to birth my healthy baby in the comfort of my own home. So I went back in the bathroom and continued to breath.
My midwives arrived around 4:30 and checked my progress. Camden and Celina left and it was just me, David and my midwives. My mom later joined (just in time, after finishing a school exam!).
To my surprise, I was close to fully dilated and the midwives were thrilled by how calmly I was managing through each contraction. I knew by the looks in their eyes that I was exactly where I needed to be to birth Sophia, and full of confidence, I didn't look back.
My friend texted me one of my favourite verses, Isaiah 43:2, during my labour, and I repeated it through the birth. The process can be a deeply spiritual experience, as you work together with your baby, your body and your spirit to overcome any fear and doubt you confront during the daunting experience. It takes everything in you to trust the process, God, and your body to do this miraculous work.
Around 5pm I was fully dilated and started pushing. This was the moment I had been anxiously anticipating. I was going to meet my baby soon. I kept my mind set on the goal.
Birthing Sophia
With each push I could feel her moving up and down, in and out, and it took every ounce of self-control to stay focused and not give in to the feeling of discouragement and self-doubt. There was no going back. I had to do this.
My midwives kept me motivated and well hydrated through the pushing, and applied a lot of coconut oil and warm compresses to keep my perineum in tact. I found rest between the contractions, closing my eyes and zoning out until the next surge came.
At around 6pm, I felt her finally descend through my pelvis and her head start to crown.
This was a surreal moment full of intensity, both physically and mentally. It was like an outer-body experience; I was fully aware of what was going on, the burning discomfort as everything was stretched, but was in an altered state of consciousness, curiously observing this incredible thing my body was doing.
I could never imagine what this moment would be like, and honestly I was terrified of it. But instead of fear, I felt energized, excited and calm. Our bodies are equipped with incredible pain-relieving and calming chemicals to help us through intense physical experiences. The endorphins were pumping. It was exhilarating.
When she finally emerged, I felt an immediate wave of relief and overwhelming joy flood my body. Sophia was placed on my chest… the tears came flowing out of both mama and baby.
I birthed the placenta and the midwives cleaned everything up. Celina and Camden returned shortly after. It was a sweet and tender moment when Camden smiled and kissed the sister he had been waiting for. Soon after, my in-laws came to visit, which I was so grateful for (another thing we couldn't have done if we were in the hospital).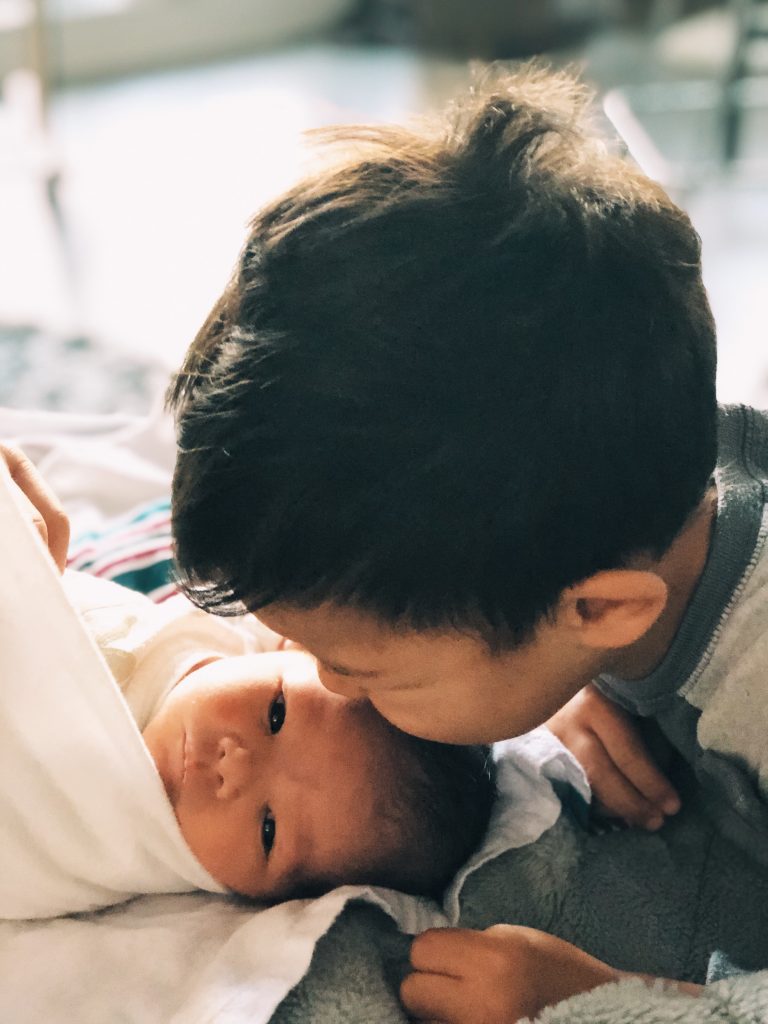 Empowerment through information and choice
Throughout the birth experience I felt safe, supported, relaxed, and empowered to listen to my body and do what I felt was right.
From conception, to pregnancy and through to birth, women should be empowered to make the best decision for themselves and their babies. One birth scenario is not mightier than another, but what is important is that women are informed about their options and encouraged to listen to their bodies as they make their choice.
There are moments in our lives that have the power to change us significantly. They are often unexpected, leaving us shocked, surprised, but nonetheless changed. These are the moments that hold weight in our hearts, are embedded into our memory, and reshape the image we see in the mirror. Giving birth to Sophia was that moment in my life that left me changed.
The Aaronic Blessing from Numbers 6:22-27 was my anchor through this pregnancy and birth and is something I will pray over my children every day after.
"The LORD bless you and keep you;
the LORD make his face to shine upon you and be gracious to you;
the LORD lift up his countenance upon you and give you peace."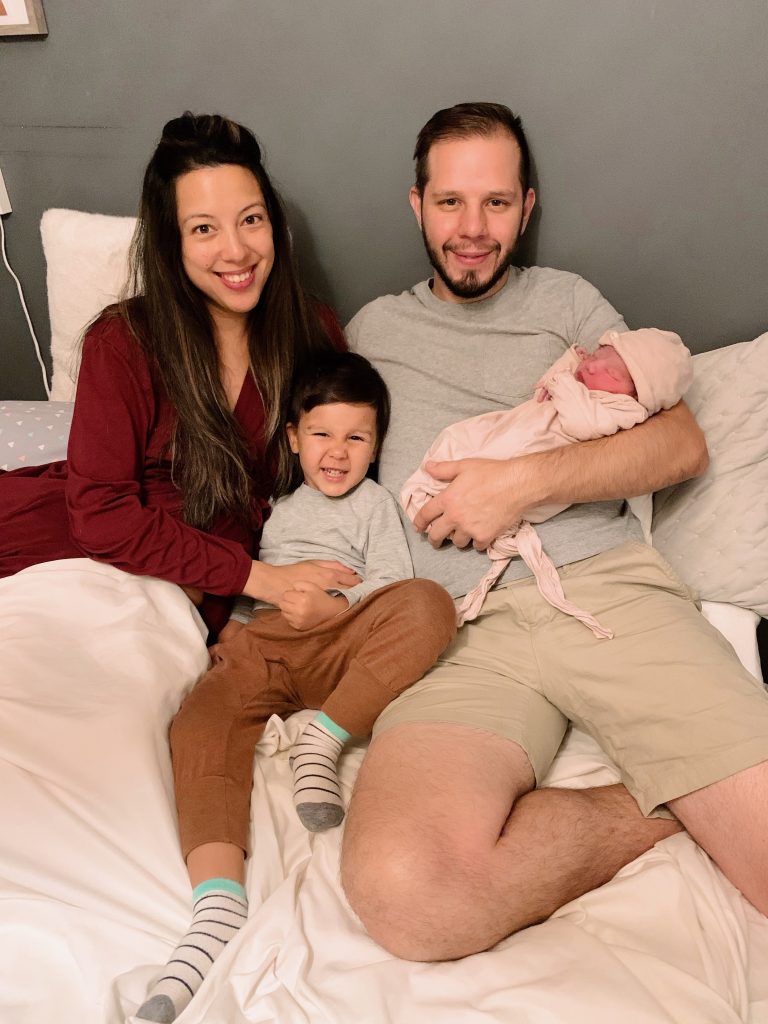 You might also enjoy:
Uncovering the hidden parts of our souls; a pregnancy reflection
Pregnancy during a global pandemic
My Birth Story: When things don't go as planned