I hosted and attended two exchanges in the past and thought it was pretty self-explanatory. Everyone makes as many dozen cookies as there are participants. Everyone brings a different kind of cookie. When we get together, the cookies get laid out on the table and everyone takes a box and collects one dozen of each kind. Seems right, but I quickly found out my family does it a little different 😉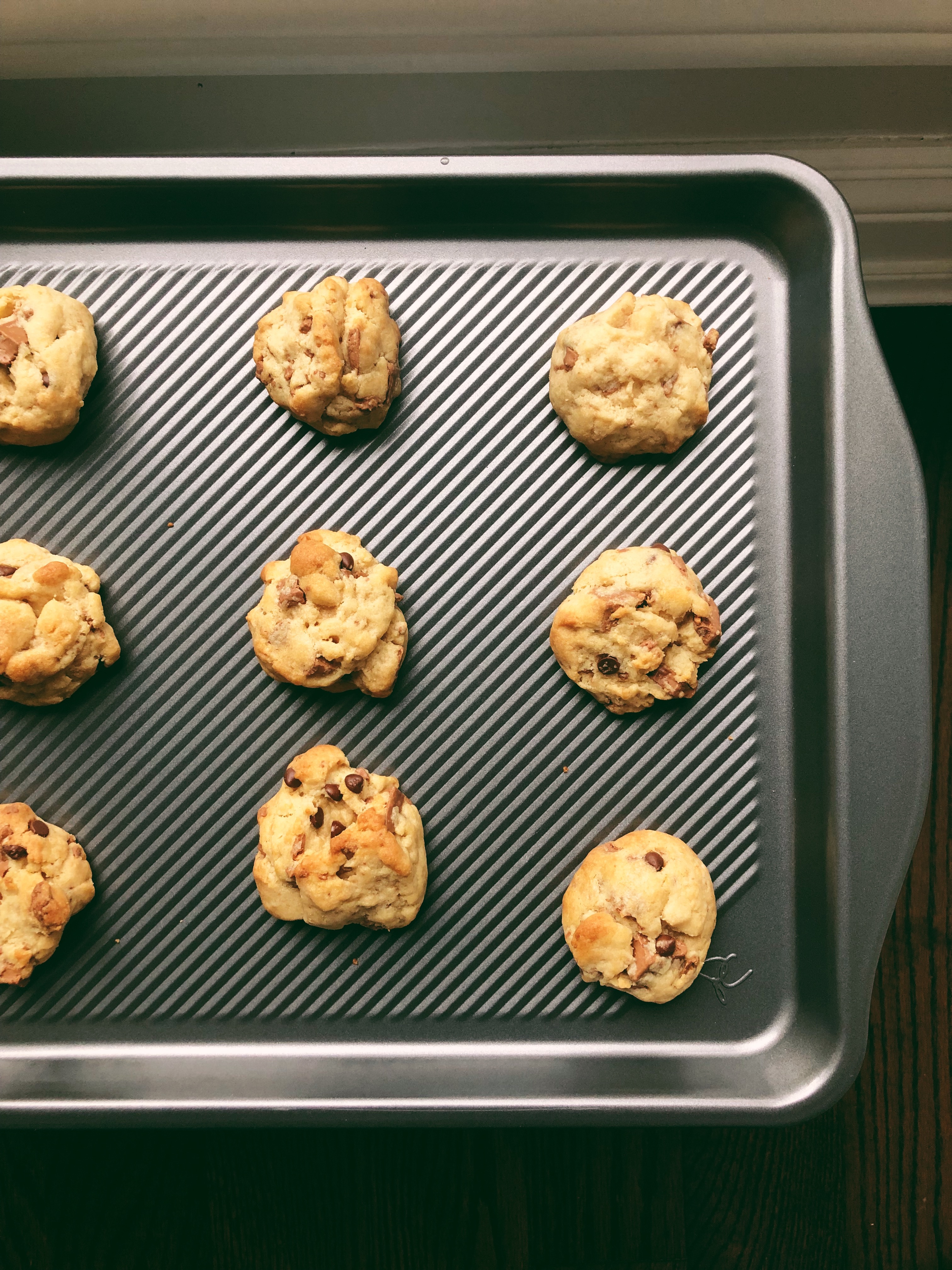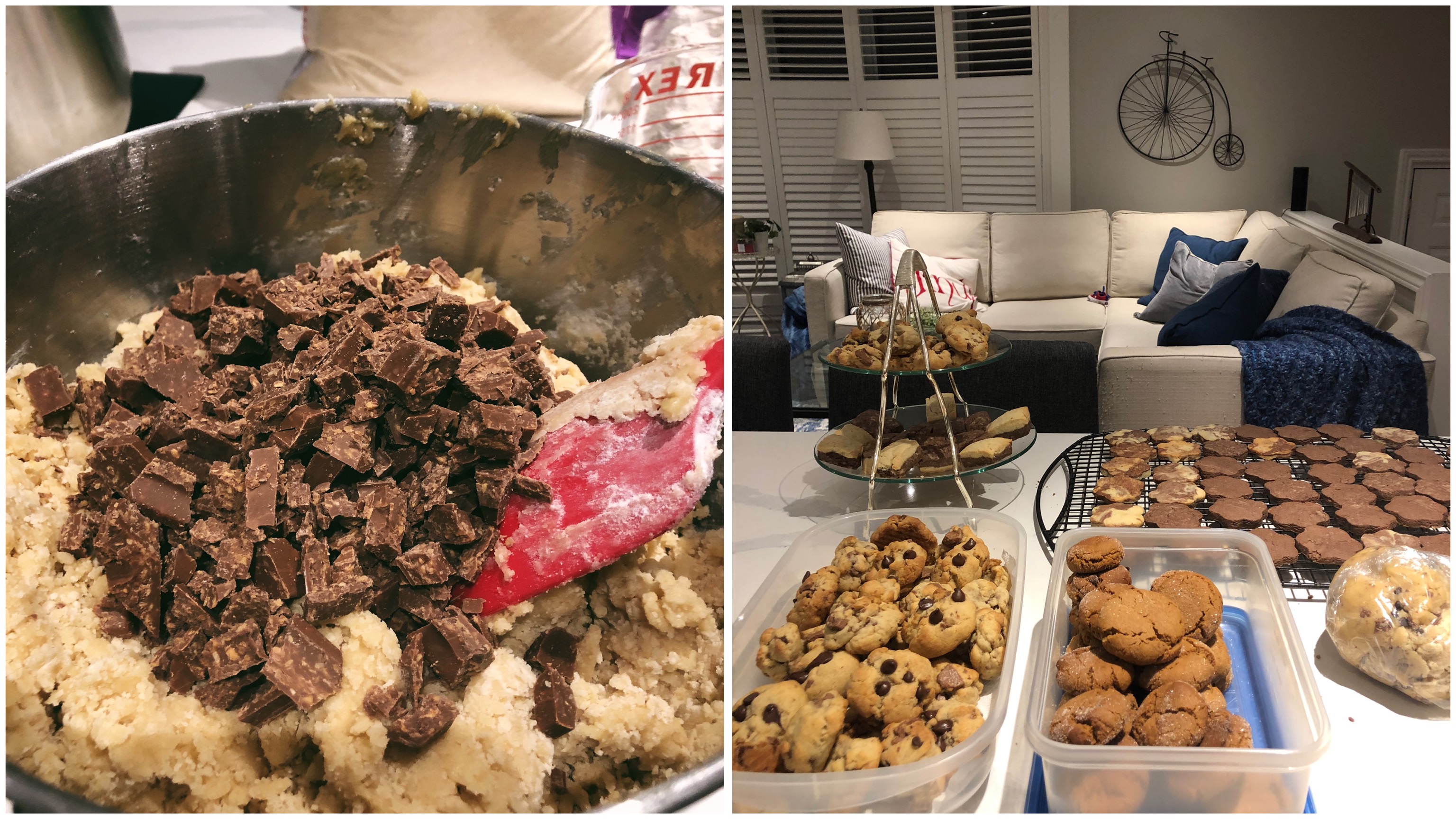 As a food blogger/photographer I eat with my eyes. Before our guests arrived, I carefully plated and styled the various cookies me and my sisters baked up the night before. Piles and piles of cookies, what a beautiful sight!
There I was with my beautiful pile of cookies, table cards ready to be labelled, cardboard boxes ready to be filled with each dozen of cookie… when my aunt and cousins arrive with a look of confusion on their faces. As seasoned cookie-exchangers, they came prepared with Christmas-themed boxes holding their cookies all ready to be distributed to the group. I realized I may have gotten it all wrong.
This sparked quite the debate about which way was the RIGHT way. I still believe mine is the better way (and way more Instagrammable). Needless to say, I learned a valuable lesson about cookie exchanges this year. Lay out the ground rules before the party!
I am adamant that my way is the superior way to host a cookie exchange, so I will lay out the ground rules for the two approaches we discussed.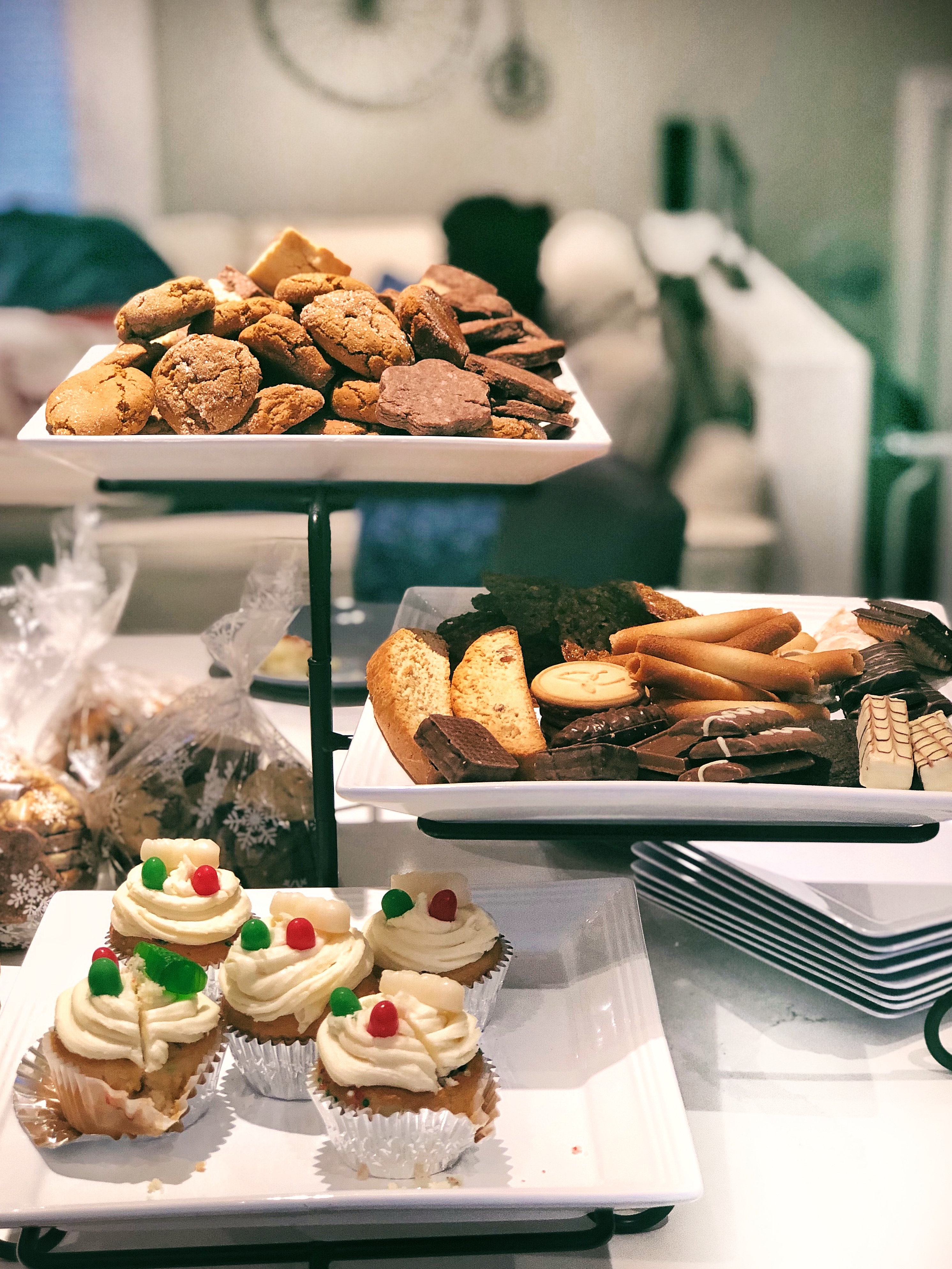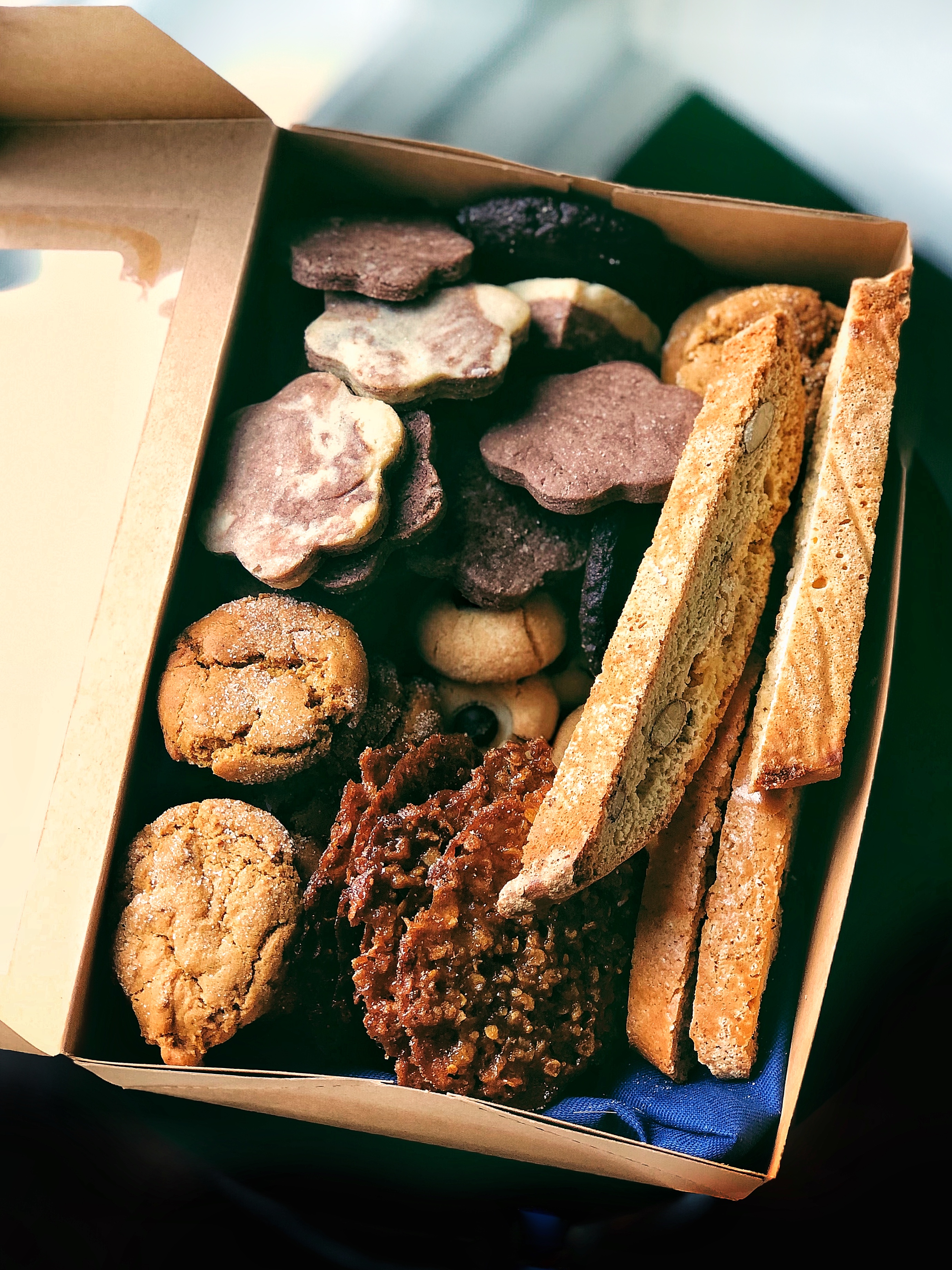 Approach #1: Traditional Cookie Exchange
1 | Communicate which cookie recipe you will be baking so there is a good variety
2 | Make as many dozen (or half dozen) of cookies as there are participants. So if 6 people are participating make 6 dozen or 3 dozen (if you're doing half dozens)
3 | Divide your cookies and package them in a box/bag/tin so they are ready to distribute to each participant. Save one cookie for a platter to be eaten at the party.
4| Optional: include a print out of the recipe with the cookies.
5 | Do the exchange! You should leave with several types of cookies, ready to be frozen for later or eaten all in one night.
Approach #2: Tastes by Jade Cookie Exchange
1| Communicate which cookie you will be making to ensure there is no overlap (and to veto out recipe choices)
2| Decide on an amount of cookies everyone will make (we decided on 36 cookies and we had 6 participants)
3| Bring all your cookies to the cookie exchange and lay them all out on a platter (makes for good food photos)
4| Everyone takes a box and collects as many cookies as they want
5| Text everyone the link to your cookie recipe
Other hosting tips:
1| Since you already spent 12 hours in the kitchen baking up a storm, opt for some ready-made appetizers to serve guests. Less time prepping, more time enjoying!
Charcuterie boards are always a crowd pleaser, are easy to put together, and don't require any cooking. I put out old age cheddar, PCⓇ Naturally Smoked Salami Trio, grapes, and some bread. I also made a simple shrimp appetizer (using these yummy PCⓇ Bang Bang Shrimp) by topping the shrimp on mini avocado toasts. I just popped them in the oven 20 min before people arrived. So easy and delicious. So easy!
2| Put out some extra cookies for guests to enjoy at the party. If you don't have extra, keep it simple and pick up some store-bought cookies and treats (I was gifted a box of the PCⓇ Luxury Brand Assorted Cookies and some PCⓇ Milk Chocolate Toffee Hazelnuts – both are delicious and both were crowd pleasers).
3| Also include some adult 'milk and cookie' drinks at some point, using your favourite liqueur of choice…:)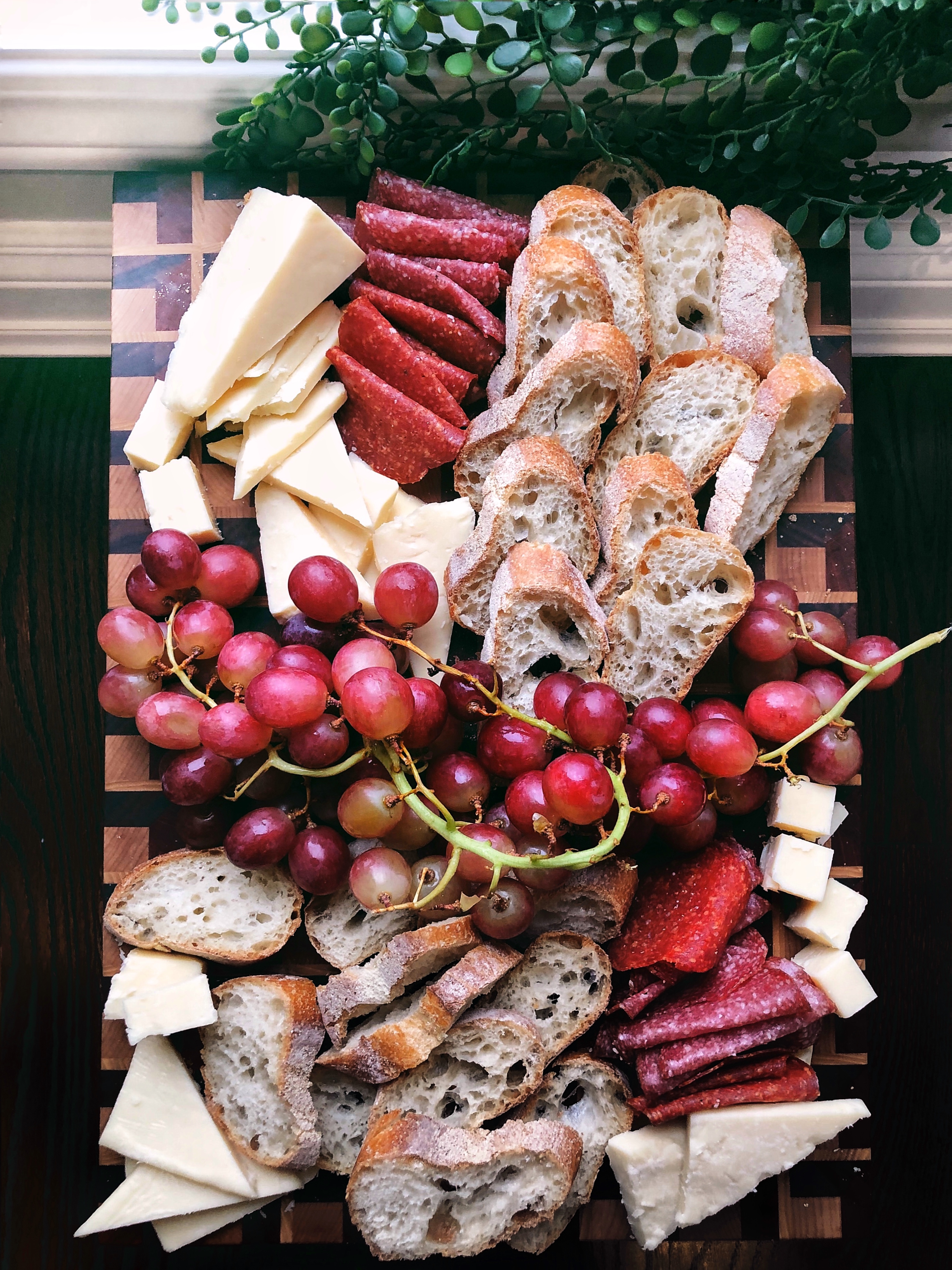 ---
Toasted Coconut Milk Chocolate Cookies
Ingredients
Makes about 4 dozen cookies
2 1/2 cups all purpose flour
1 tsp kosher salt
1 tsp baking soda
1 cup unsalted butter, room temperature
1 cup of dark brown sugar
1/4 cup of organic sugar
2 large eggs, room temperature
3/4 tsp pure vanilla extract
1 bar of PCⓇ Milk Chocolate with Toasted Coconut bar, finely chopped
1/2 cup of chocolate chips (optional)
Directions

1. In a bowl, whisk flour, salt, baking soda
2. In a stand mixer bowl with paddle attachment, combine butter and sugars. Mix on medium high speed for about 2 min, until lights and fluffy. While paddle still running, add eggs one at a time and vanilla. Lower speed, add in flour mixture 1/4 cup at a time just until dough comes together (20 seconds). Turn off mixer. Add chopped chocolate and chocolate chips and mix only a few times.
3. This step is optional. Cover bowl with plastic wrap and put in fridge for a min of 2 hours. I usually leave it overnight.
4. Preheat oven to 350. Line baking sheets with parchment paper, or use a non stick baking sheet like the PCⓇ Carbon Steel Non Stick Cookie Sheets.
5. Place about 2 tbsp of dough balls onto sheet. Bake for about 7 min, then rotate the sheets. Continue to bake for 6 min.
6. Remove from oven when golden brown and let sit on pan for 5 min. Then transfer to a cooling rack and let cool completely. Store in airtight container for up to 4 days.
Enjoy!
---
Disclaimer: This post was created in partnership with President's ChoiceⓇ. As always, views, photography and recipe development are my own.