Most millennial parents are well-educated, well-read, and feel confidently knowledgeable about way too many things, thanks to the internet. When you become a parent it's only natural to want to become an expert on the subject of how to raise a child. So you do your research, consult experts in the field, and apply your learnings. But then something happens. To your surprise, you find your baby may not be doing, behaving like, or fitting the description of the baby you've read and heard about.
As a parent of a now 15-month old, I'd like to offer some advice. Put aside the books and articles for a minute. Try this one thing: learn from your baby.
One of the most important thing I've learned about raising a toddler is that they are our greatest teacher on the subject of raising a toddler. While I've done my fair share of reading and consulting with experts, my most valuable lessons have been from simply observing my son.
This is an uncomfortable position to be in as an adult – taking lessons from a person whose age you can still count in months. But when you take the view that these little humans are remarkably intelligent and highly communicative – you'll be amazed by what they can tell you about how to raise them.
So with that in mind, I've come up with a list of five things my toddler has taught me about raising a toddler.
1 // They don't need a lot of stuff
It is easy to purchase way too much for your little bundle of joy – all to discover that they grow out of it way too fast or get bored of it quickly.
As a minimalist parent I've never had a lot of toys at home. But of the toys we do have, it appears that my son is only ever entertained by no more than five. Instead, I have learned that he is much more entertained by doing things – especially outdoors. Experiences create the perfect environment for learning and entertainment. Something as simple as going on a walk, going down a slide, swimming, looking at twinkling lights, or joining others at a play group is enough to keep a baby happy and entertained.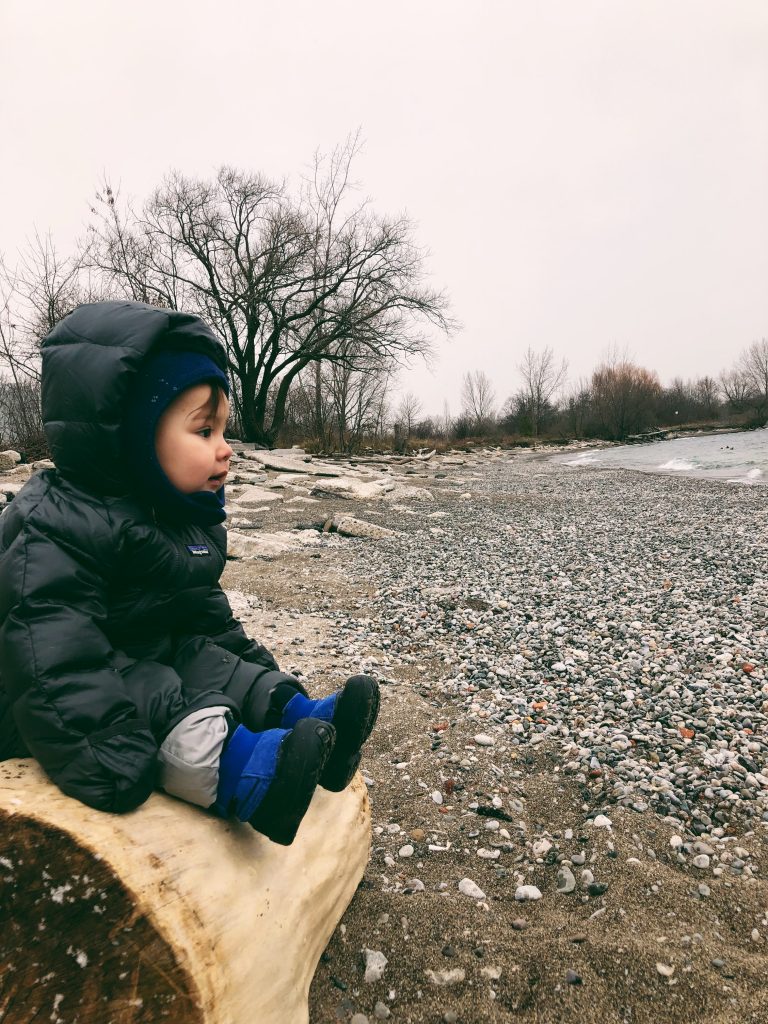 2 // They learn different skills at their own pace
Several books or online articles will tell you what your child should be doing at each month. This can be the source of some concern to parents when they realize their child isn't doing what they 'should' be doing at month 6, 12, 18, etc. I was stressed when people told me my son should be sleeping through the night by 6 months, for instance.
The reality is that babies learn different things at different times. They set the pace. Our job is to facilitate their development, not to force them to do things when we think they should be doing them. My son could feed himself with a spoon by 6 months and was saying more words than I could count by 12 months, but started walking and sleeping through the night after he turned one. None of these timings fit in exactly with what the books say is average – but as long as it's within a normal range of developmental milestones, it's perfectly ok.
3 // Sleep behaviour is highly individualized and based on temperament
Oh how I wish I knew this when my baby was born. Probably the most top-of-mind subject for every new parent is sleep. We all want to know WHEN we will ever sleep through the night again and WHAT we can do to make them sleep.
I've learned that sleep behaviour is different for every baby and that some babies simply may be more 'wakeful' than others. Try your best to develop a good night time routine, a good sleep environment, and time to nap during the day – but apart from that, your baby will sleep through the night when they are ready.
4 // They will eat what they need, when they are hungry
As a foodie and at-home-chef, I couldn't wait to introduce my son to food. As soon as he showed the signs of readiness I got busy preparing him all sorts of homemade baby foods. He was a champ; not only did he master his self-feeding skills almost immediately, he would basically eat anything I gave him. Until, however, he turned one.
It seemed almost overnight that my amazing eater developed some very specific preferences. There was a stage when it seemed all he wanted to eat was bread, yogurt and breastmilk. I resisted the urge to force things down his throat (that's the last thing you should do!). All I could do was offer him a variety of nutritious food options every day, regardless of whether he ate it or not, and wait until he decided to eat it.
Then one day, as I put his plate in front of him fully anticipating he would throw it on the ground, he did something surprising; he picked up his fork and ate the whole plate. Moral of the story: your children will not starve themselves. Offer them a variety of healthy foods. They will decide when they have had enough.
5 // They just need you to love them, unconditionally
It can be tempting as a parent to feel the need to teach our child all sorts of skills. It's a heavy burden to carry when it is our job to ensure they are sleeping through the night by this month, eating with a spoon by that month, walking by this month, reading by this age…etc. Undoubtedly, parents need to provide a supportive environment for children to grow and learn. But I am more and more convinced that what children really need from their parents (apart from having their basic needs met) is for us to love them unconditionally.
How do we do that? Show them they are loved regardless of what they do. Model the behaviour you'd like them to emulate. Celebrate their successes when it happens. Be their unfailing supporter in life. And let them teach you who they are and what they are capable of doing.